This guide shows you how to find your first apartment or WG in Berlin.

Is it hard to find an apartment?
Yes. It's really hard.1 You must send hundreds of applications to find something.2 It can take months to find an apartment.
During your search, you might need a temporary place to live. For example, you can stay with a friend, or rent a short-term furnished apartment.
Finding your first apartment
If you just moved to Berlin, it's harder to find an apartment. You are on your probation period, you have no credit history, and you might not have a residence permit yet. Landlords prefer more stable tenants.
It's easier to find an apartment if you are already in Berlin. You can visit apartments in person, and avoid scams. If you look for a flat share, you can meet potential roommates face to face.3
Before you start
Get everything you need
You must do this before you apply for apartments:
Things that are different in Germany
The deposit
Almost all apartments require a deposit (Kaution). It's usually 3 times the cold rent. You get it back when you move out. You can pay it in 3 instalments. – More about the deposit
Cold rent and warm rent
In Germany, there is the cold rent (Kaltmiete) and the warm rent (Warmmiete). The warm rent is the cold rent plus utilities (Nebenkosten). It's what you pay every month. The Nebenkosten are not a fixed cost; your landlord adjusts them once per year based on your usage.
Nothing is included
Apartments usually come without a washing machine, curtains, light fixtures or a furnished kitchen (stove, fridge, sink). You must buy your own, or buy them from the previous tenant. In Berlin, apartments must include a stove and a sink,4 but not in the rest of Germany. Furnished apartments come with the kitchen, furniture and everything else.
You pay rent by bank transfer
You usually pay the rent by SEPA transfer. You rarely pay the rent with cash, and never with cheques.
Rooms are not counted the same way
In Germany, the living room also counts as a room. A studio is a 1 Zimmer Wohnung. A 2-bedroom apartment with a living room is a 3 Zimmer Wohnung. The kitchen, the bathroom and the hallway do not count as rooms.

Floors are not counted the same way
In North America, the first floor is the ground floor. In Germany, there is the ground floor (Erdgeschoss or EG), then the first floor.
The TV tax
Each household pays the TV tax (Rundfunkbeitrag). It costs

18.36

€ per month. If you live with other people, you can split the cost. – More information
Your housing options
Regular apartment
Regular apartments come without furniture, appliances, light fixtures, curtains or cookware. They are empty. In Berlin, apartments must come with a stove and a sink.4 You must buy everything else yourself. You must also get an internet connection and find an electricity company.
Regular apartments are a good long-term solution, because they are cheaper. There is a lot of competition for those apartments, so they are hard to find.
A regular apartment is cheaper in the long term. Your rent is lower, because you don't rent the furniture with it.
Short-term, furnished apartment
Short-term apartments are very expensive, but they come with everything you need. They are a good short-term solution when you move to Berlin.
Short-term apartments have many benefits:
Fully furnished
They come with everything you need: furniture, appliances and cookware. You don't need to get an internet contract, an electricity contract, furniture, appliances or cookware.
Internet and utilities included
The internet and utilities are already connected. You can just move in, and focus on other problems.
Immigrant-friendly
You can book an apartment before you arrive in Germany. They don't ask for documents that immigrants don't have, like a Schufa.
Less competition
These apartments are overpriced, and too expensive for most people. There is less competition for them, so they are a little easier to find.
Some furnished apartments have a booking fee or a cleaning fee.5 If you rent for less than 6 months, you might pay 19% VAT (included in the price).6
Look for short-term apartments ↓
Flat share (WG)
Sharing an apartment with other people is cheaper and easier. They are a budget-friendly solution.
Shared apartments have many benefits:
Shared costs
You can split the cost of rent, internet, electricity, TV tax and other bills. You save a lot of money.
Lower deposit
Your part of the rent is lower, so your part of the deposit is also lower. If you don't have a lot of savings, a WG could be your only option.
Many things included
Your roommates might already have most of the furniture and cookware you need. You don't need to buy everything yourself. The internet and utilities are already connected.
Finding a WG is a little easier than finding a full apartment, but still very hard.7
Usually, you must meet your roommates for an interview. Most WG interviews are like a personality test or culture fit test. Interviews for a Zweck-WG are more formal.
Student housing
Student dorms are the cheapest option for students, but they are hard to get. Student housing has long waiting lists.
There is also luxury student housing. It's very expensive, but it comes with everything you need.
Buying an apartment
If you just moved to Berlin, don't buy an apartment. Buying is even harder than renting. If you just started a new job, you won't get a mortgage. If you don't have EU citizenship or permanent residence, you won't get a mortgage.
Step 1: Look for apartments
Ask your network
Ask the people you know: friends, colleagues, classmates… Many people find an apartment this way. It's easier to get the apartment if you are recommended by someone.
If you already live in Berlin, ask your Hausverwaltung if they have other apartments to rent. They prefer to rent to someone they trust. They can put you on a waiting list, and show you unlisted apartments.
If you are in university, go to help clinics for new students. There are also boards where they list apartments for rent.8
Classified ads
Short-term and furnished apartments
You can rent a vacation apartment. You rent by the day, and you can rarely do your Anmeldung there.
WGs, flat shares and roommates
WG-Gesucht – Most popular website. Very competitive.
Dorms and student housing
Housing companies
Facebook groups
Real estate agents
People don't hire agents to find an apartment. They are mostly useless.11 They cost a lot of money, but they don't improve your chances. Many agents only accept clients with a high budget (over 3,000€ per month).
Other tricks


Step 2: Choose apartments to visit
Most people can't choose where they live. They take what they find.12 You should look for a place you like, but you can't be too picky.
How to choose an apartment
Is the price fair?
The ImmobilienScout24 rent atlas shows rent prices in the area. Furnished apartments are often much more expensive.
Can you register your address there?
Always choose an apartment that lets you register your address. If you can't register your address, it makes your life harder. – More information
Should you live alone or in a WG?
To save money, rent a room in a flat share (WG). It's cheaper, and the apartment already has internet, electricity, appliances and sometimes furniture. It saves you a lot of work.
What comes with the apartment?
Apartments often come without appliances, curtains, and light fixtures. When an apartment is mit Einbauküche, it includes a stove, fridge and sometimes a dishwasher. You must buy your own washing machine. WGs and furnished apartments usually include everything you need.
Is the housing company good?
Check which housing company (Hausverwaltung) owns the apartment. When you have a problem with your apartment, you must talk to them. Some housing companies are really bad.
Neubau or Altbau?
New buildings (Neubau) are often quieter and better insulated. They have concrete walls and floors. You hear your neighbours less. Old buildings (Altbau) often have high ceilings, hardwood floors, and a lot more charm.
Which floor?

Top floor
These apartments are quieter; you hear less traffic, and there is no neighbour above you. They get more sunlight. They are hotter in the summer,13 especially old apartments with bad insulation. Ask if they improved the insulation in the recent years. If you live in the attic (Dachgeschoß), the walls are at an angle, so the apartment can feel smaller.
Upper floors
These apartments get more sunlight. There is less traffic noise. Check if there is an elevator. It's harder to move in without an elevator.
Lower floors, ground floor
Apartments on the lower floors are darker and louder. They are less safe because of break-ins. Neighbours can often see inside your apartment.14 Some ground floor apartments come with a garden.

Street or courtyard?
Does the apartment face the street or the courtyard? On the street side, you hear the traffic more. On the courtyard side, you hear your other neighbours more. The courtyard side often gets less sun.
Balcony or not?
A balcony is nice to have, especially if you work from home. Some apartments come with garden or rooftop access.
Storage and parking
Many apartments come with a storage room in the basement (Kellerraum), and bicycle racks in the interior courtyard. Some buildings have parking spaces in the basement. A parking space in the basement garage usually costs around

120

€ per month. Check if there is street parking.
Gas or electric?
Some apartments have gas heating and gas stoves.
How to choose a location
Neighbourhoods
Berlin has a few popular neighbourhoods (Kiez): Kreuzberg, Prenzlauer Berg, Friedrichshain, Neukölln, etc. These neighbourhoods are more interesting, but they are busier, louder and more expensive. There is a lot of competition for apartments in those areas. To save money or live in a quiet area, look for apartments outside the Ringbahn.
Crime
Berlin is a safe city, even at night, but some parts are less safe. The areas next to big train stations (Alexanderplatz, Görlitzer Bahnhof, Kottbusser Tor, Hermannplatz) are more dangerous.15 There are more drunk people, drug addicts, street fights, vandalism and theft in those areas, but people will still leave you alone. You don't need to avoid the entire area, just the busy streets. Use the crime atlas to find a safe area.
Noise
Main roads are very noisy because of trams, cars and ambulances.16 Ambulances, trams and trains are very loud. You can hear even with your windows closed.17 Busy areas with lots of bars and restaurants are also loud, even late at night. Google Maps shows the busy areas in orange. If you want a quiet apartment, don't live in those areas. The noise map can help. The big red line is from Tegel airport, which closed in 2020.18

Public transportation
Berlin has good public transportation. You can live far from the centre if you live close to a train or tram station. Use Mapnificient to see how far you are from work.
Parking
You don't need a car in Berlin. If you want a car, check if there is enough parking space nearby. In central neighbourhoods, parking spaces are harder to find, and you need a parking permit. Your building might have a basement garage. Basement parking costs around

120

€ per month. Single garages are harder to find. You can park your motorcycle on the sidewalk.
Parks and nature
Berlin is one of the greenest cities in Europe.19 There are many parks and green spaces, even in the centre. To be closer to nature, live near Brandenburg or Grunewald.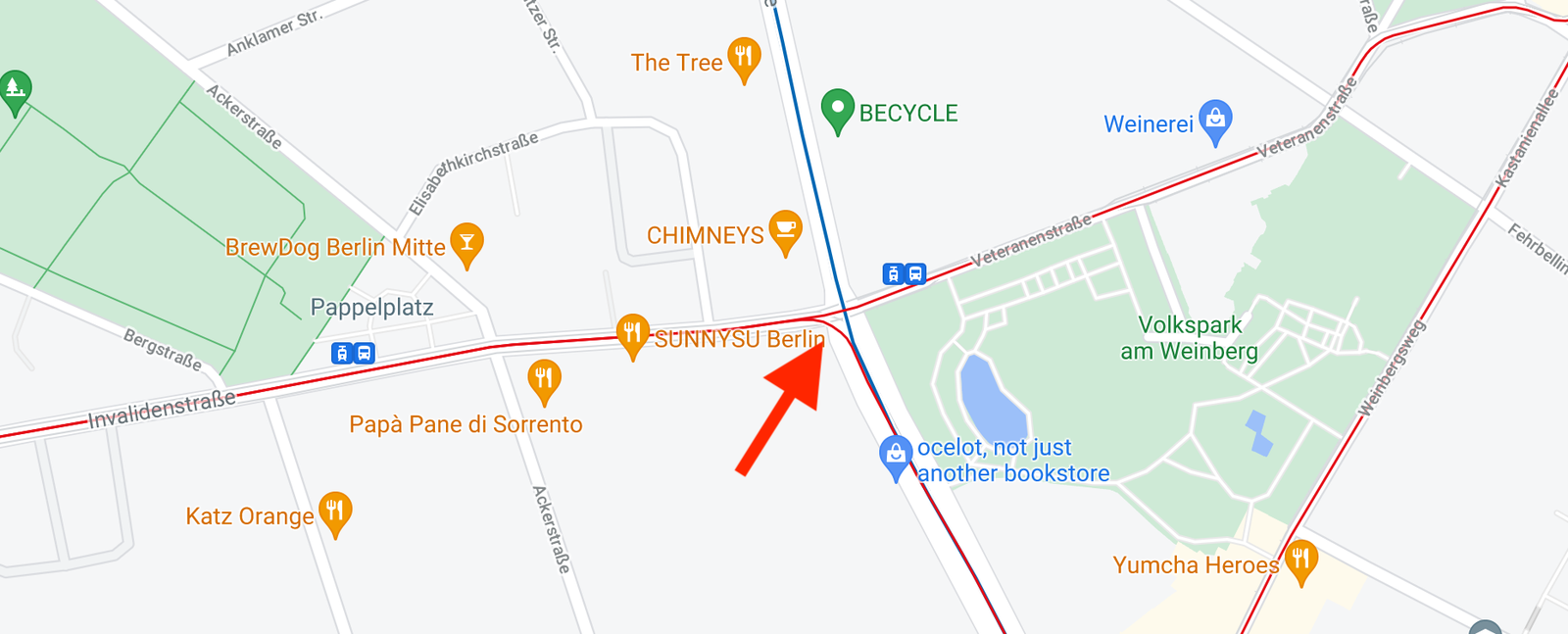 Common apartment scams
Here are a few tricks to avoid scams:
Wait before you pay
Don't send any money before you see the apartment in person and sign the lease.26 You have until the day you move in to pay the rent and the deposit. You can pay the deposit in 3 instalments. You never have to pay a fee to see an apartment, or to apply for it.42
Wait before you send documents
Don't send your pay slips, your Steuerbescheid or a copy of your passport before you see the apartment. You don't need to share these documents to visit an apartment, only to apply for it. You should censor the parts of the documents that they don't need to see.
See the apartment in person
A scammer could show you any apartment in a video call. Even in person, they can show you an apartment that they rented for a few days.
Only pay by bank transfer
In Germany, people pay their rent by SEPA transfer. Never send money by Western Union or other payment services.27 If you pay with cash, ask for a receipt. Use Wise to transfer money from another country. You have until the day you move in to pay the rent and the deposit, so you can also come to Germany, open a bank account, then pay your rent.
Use common sense
If the rent is too low, it's probably a scam.28 There are no cheap furnished apartments in the centre. If it's too easy to get the apartment, it's probably a scam.
Look at the account age
Scammers often use a new account to publish apartment listings. If the account is only a few days old, be careful.
Use Google
Search the landlord's name and IBAN on Google. You can also search for parts of their messages on Google.29 If they are a scammer, you might find some warnings online, or identical ads with different photos. If the IBAN does not start with "DE", be careful.
Use Google Street View
Scammers often use photos of a different apartment. Use reverse image search to see if the photos come from another listing. Check if the apartment looks the same on the photos and on Google Street View. Is the balcony the same? Are the windows the same shape?
Step 3: Contact the landlord
After you find apartments you like, contact the landlord now. Here are ways to improve your chances:
Speak or write in German
You get more responses if you use German.
Call and write
Some landlords only answer phone calls. Others only answer emails. Call as soon as you can, then send a message.
Introduce yourself
When you contact the landlord, include all the important details about you: your name, age, job, salary, when you want to move in, who will live with you, what documents you have,30 and a personal introduction. A cover letter and a photo can help.31 Use example messages to write your message. Lingoking can translate your message and cover letter to German.
Send many applications
You must apply for dozens of apartments, not just one or two. It's not enough. Some people send hundreds of applications before they find an apartment.
Be prepared
Landlords get hundreds of messages and dozens of applications per day. Make their life as easy as possible. Fill the application form in advance, and bring all the required documents with you.
Be flexible
There are really nice apartments outside of Kreuzberg, Prenzlauer Berg, Friedrichshain or Neukölln. Search in all of Berlin, including outside the Ringbahn. Berlin has good public transportation; you don't need to live in the center.
What landlords want
Landlords prefer quiet, long-term tenants who pay their rent on time. They want to avoid problems.
Landlords want tenants with…
A good income
Your rent should be less than 30-40% of your monthly Netto income.34 Some landlords want this, some landlords don't care. Two incomes are better than one. It's better if you're not in your probation period. If you have a good salary, say it in your introduction message. Your income can also be too high.49
A stable job
Landlords prefer tenants with a stable job. It's harder to find an apartment if you are self-employed, or if you are on your probation period. If you have a good job, include it in your introduction messages.
A stable residence permit
It's easier to find an apartment if you have a EU citizenship, or a stable residence permit. It's very hard to find an apartment if you are in another country. If you are not yet in Germany, try finding a short-term furnished apartment.
German speakers
If you speak German, it's easier to find an apartment. It's less work for the landlord. It's another good reason to learn German.
No dogs, no pets
Landlords prefer people without pets. It's harder to find an apartment when you have a dog. Only 20% of apartments explicitly allow pets. Some websites let you filter for apartments that allow pets.
Step 4: Visit the apartment
The landlord will invite you to visit the apartment (the Besichtigung). It might be a private visit (just you), or an open visit (many other people).
You can usually apply for the apartment during your visit.
What to bring to the visit
If you want to get the apartment, come prepared. Bring all your documents with you. If you like the apartment, you can apply during the visit.

You might have to send personal documents to people you don't know. Some scammers pretend to be landlords. They create fake listings to get your documents and steal your identity.25
Only send documents after you see the apartment. Remove bank account numbers, passport numbers and tax IDs from your documents. The safest way to censor a document is to print it, censor it with a pen, and scan it again.
You need these documents to apply for an apartment:
Schufa report
This is like a credit report. You can get one for free. If you are new in Germany, your Schufa is empty. You can bring a work contract or a tax return, to prove that you make enough money. Furnished apartments from Homelike, Spotahome, Wunderflats don't ask for a Schufa.37
Passport or Personalausweis
You must show it when you apply for the apartment. Bring photocopies of your ID, just in case.
Proof of income
Bring a work contract, your last 3 pay slips, or your last Steuerbescheid. If you are a freelancer, bring a profit-and-loss statement. If you don't make enough money, you can get a Mietbürgschaft.
Bank account statement (optional)
This shows how much money you have in your bank account. If you are a freelancer, bring one.38
Employment contract (optional)
Some landlords want to see your employment contract.39 It proves that you have a stable income. It's harder to find an apartment during your probation period.
Mietschuldenfreiheitsbescheinigung (optional)
This document proves that you don't owe money to your previous landlord. You get it from your previous landlord. It does not have a standard format, but you can use this template. You can also use bank statements to show that you pay rent every month.48
Mietbürgschaft (optional)
If you don't have a stable income, a parent or a friend can be your guarantor. If you don't pay the rent on time, your guarantor must pay it for you. This is a good option for students, freelancers and people with a low income. Use this Mietbürgschaft template.
Application form (optional)
If an agency listed the apartment, download their application form and fill it in advance. If you like the apartment you visit, you can apply immediately. You can usually find the application form on their website.
Copies of everything
What to look for?
Appliances
Check what appliances fit in the apartment. Do you need a smaller washing machine? Is there room for a dishwasher? Does your bed fit in the bedroom?
Hausordnung
Each building has different house rules (Hausordnung). For example, some buildings have quiet hours from 13:00 to 16:00.40 The Hausordnung often has rules about quiet hours, BBQs, ventilation, musical instruments, vehicles and pets.
Neighbours
Check who your neighbours are. For example, if they have pets and children, you will sometimes hear them. If you visit the apartment during the day, it can be quieter than in the evening, when all your neighbours are at home.
Noise
Can you hear the noise outside? Traffic, ambulances, bars and other noise can be a problem.
Pets
Are pets allowed in this apartment? Most apartment listings show this information.
Internet access
Some buildings can't get a fast internet connection. Use this tool to see what internet options are available there.
Visiting a flat share
If you visit a WG, the process is different. It's not a visit, but an interview. You meet your future roommates, and they decide if they like you.41 These interviews can be very informal: you might meet to have a drink or even play board games together. This takes a lot of your time.
The interview for a Zweck-WG is usually shorter. Your roommate wants to save money. They don't care so much about being your friend.
Step 5: Sign the lease and move in
You will sign a lease, pay the deposit, get the keys and move in. You must register your address, put your name on the mailbox, and change your address.
These guides explain how:
How to move out of an apartment ➞
How to move into an apartment ➞
Step 6: Get insured
There are 3 types of insurance that cover your apartment:
Liability insurance (Haftpflichtversicherung)
It covers damage to other people's things. For example, if you spill water and destroy the floor, or if you lose your keys and they must replace all the locks in the building. Everyone should have liability insurance. – More information
Legal insurance (Rechtsschutzversicherung)
If you have problems with your landlord, it pays for the legal costs. Landlords often take advantage of immigrants. Legal insurance allows you to defend yourself. It's optional, but good to have. – More information
Household insurance (Hausratversicherung)
It covers your things against theft and fires. It can also cover your bicycle. It's useful if you can't afford to replace your things.
Need help?
Where to ask apartment questions ➞
Sources and footnotes

Multiple relocation consultants (October 2023) ⤴