This is how you buy a used car or motorcycle in Germany. The process is the same if you buy from a person, or from a dealership.
Step 1: Look at vehicles
In Germany, Mobile.de and eBay Kleinanzeigen are the best places to find a used vehicle. If you see a vehicle you like, schedule an appointment with the owner. Inspecting a used vehicle in Germany is the same as in other countries, with a few small differences.
Here are important things to know:
The TÜV inspection
Vehicles in Germany must be inspected regularly; usually every 2 years. This inspection is called the Hauptuntersuchung, HU or TÜV1. Only workshops certified by TÜV, Dekra or KÜS can do this inspection. It costs around 100€1, 2. If a vehicle fails the inspection, it can't be registered, and you can't drive it. This is why old vehicles are cheaper when their inspection approaches, and much cheaper when it's overdue (TÜV abgelaufen). Mobile.de and eBay Kleinanzeigen show the next inspection date in their listings.
The green sticker (Umwelt-Plakette)
Central Berlin is an environmental zone. The area inside the Ringbahn is part of the environmental zone. You can only drive in this area if your car meets certain emission standards. Your car must have a green environmental sticker. You will get that sticker when you register the vehicle, but you can also buy it from garages and gas stations later. Motorcycles don't need a sticker; they are always allowed. More information here.

Seasonal plates (Saisonkennzeichen)
Seasonal plates (Saisonkennzeichen) only let you drive a vehicle during the months you choose. Motorcycles often have Saisonkennzeichen for the summer months, because they spend the winter in the garage. You only pay insurance and taxes for the months when you use the vehicle, so it's cheaper. If you want to test drive a vehicle out of season, you must get temporary plates (Kurzzeitkennzeichen).

Scooter plates (Versicherungskennzeichen)
If you have a scooter under 50cc, you don't need to register it, and you don't need to pay a vehicle tax1. Instead, you must get Versicherungskennzeichen from your insurance company. If you are buying a scooter under 50cc, you don't need to go to the vehicle registration office. Electric bicycles are treated as normal bicycles; they don't need Versicherungskennzeichen.
Unregistered vehicles
If a vehicle is unregistered (Abgemeldet), you can't go on a test drive. It has no insurance, so it can't go on the road. You will need to get temporary plates (Kurzzeitkennzeichen) for it.
Vehicles without papers
If a vehicle comes without papers, it will be almost impossible to register it. If the seller lost the papers for a vehicle, don't waste your time. You won't be able to drive that vehicle on the streets. At best, the vehicle has not moved in a very long time. At worst, it was stolen.
"For hobbyists" (für Bastler, Bastlerobject, Bastlerfarzeug)
Some vehicles are listed as "für Bastler". This means the vehicle has important mechanical problems or simply doesn't work. These vehicles are rarely ready to drive home. A parts carrier (Teileträger) should only be used for spare parts. It could be broken beyond repair, or missing important parts.
Step 2: Buy a vehicle
After you have seen and inspected the car, it's time to buy it. Some sellers want to be paid in cash, but others will accept bank transfers (SEPA-Überweisung).
After you have paid, you should get these documents:
Sales contract (Kaufvertrag)
This contract includes basic information about the vehicle and its condition. It explains the known defects of the vehicle. You should insist on having one. Use this contract template from ADAC, or this one from Mobile.de.
Registration certificate, part 1 (Zulassungsbescheinigung Teil I)
When folded, this document fits in your wallet. You must have it with you every time you drive.
Registration certificate, part 2 (Zulassungsbescheinigung Teil II)
This is a sheet of paper folded in half. You leave this document at home, not in your vehicle. If you are buying an old vehicle, you might receive a Fahrzeugbrief instead. The Fahrzeugbrief is the old format of registration papers.
You should also get these things:
Maintenance record
Germans religiously collect invoices for every oil change, repair and inspection. You should get all those papers with the vehicle. These papers show that the vehicle was well-maintained. It's important to keep them.
All vehicle keys
Owner's manual
The seller will usually have the owner's manual. If you're lucky, you will even get the service manual. The service manual is useful if you do your own repairs.
Extra parts
The seller will often give you extra parts for the vehicle. For example, if they installed aftermarket parts, they will often give you the original parts too.
After you bought the car, the rest is your problem. You will not need to talk to the seller anymore. You are not allowed to drive the vehicle yet; you must register and insure it first. If the vehicle is still registered and insured, some sellers will let you drive it to your home.
Step 3: Book an appointment at the registration office
The next step is to change the vehicle's owner. You do this at the registration office (Kfz-Zulassungsstelle). You should book an appointment as soon as possible. It can take weeks to get an appointment. You can see the current waiting times on this page.
If the vehicle already has Berlin plates, book your appointment here.
If you buy your vehicle from a dealership or a garage, they can usually register it for you. It costs a little more, but it saves a lot of time. I really recommend it.
If you are buying a scooter or a moped under 50cc, you don't need to go to the registration office. You must request scooter plates from your insurance company instead1.
When you register a vehicle, you must prove that it can be insured. You must find an insurance company before you register the vehicle, and ask them for an eVB number. You must give the eVB number during your Kfz-Zulassungsstelle appointment.
You get this number from your car insurance company. Some insurance companies let you apply for an eVB number online. Use Verivox or Tarifcheck to compare car insurance prices. If you don't speak German, GetSafe offers car insurance in English.

Your eVB number is only valid for the type of insurance you asked for. If you requested insurance from March to October, your eVB number is only valid for Saisonkennzeichen. You can't ask for full-year plates at the Kfz-Zulassungsstelle with that eVB number.
Related guide: Car insurance in Germany
Step 5: Fill the paperwork
You must bring a few things to your Kfz-Zulassungsstelle appointment:
Print both of these documents and bring them to your appointment.
Step 6: Register the vehicle
Go to your Kfz-Zulassungsstelle appointment. Bring these documents with you:
Your old licence plate
Always bring the old licence plate with you. Even if you're keeping the same plate number, they will need to see it.
Your passport or a valid photo ID
Your Meldebescheinigung
If your ID does not show your address, you must bring your Meldebescheinigung.
Money for the registration fee
The registration fee is 19.60€ to 31.50€1. The Kfz-Zulassungsstelle only accepts EC-cards and cash1, 2.
Money for a new plate
If necessary, bring an extra 15€ to get new plates stamped. There are dozens of kiosks
The filled vehicle registration form
Print and fill the vehicle registration form.
The filled direct debit authorisation
Print and fill the direct debit authorisation form. This allows the government to collect the vehicle tax (Kraftfahrzeugsteuer) from your bank account.
The eVB number from your insurance company
You don't need to print the number, but you must have it with you.
Step 7: Pay the fees, get your new plates
When it's time to pay, the clerk will give you a plastic card. There are payment machines in another room. Put your card in those machines, pay the required amount, and bring the receipt back to the clerk.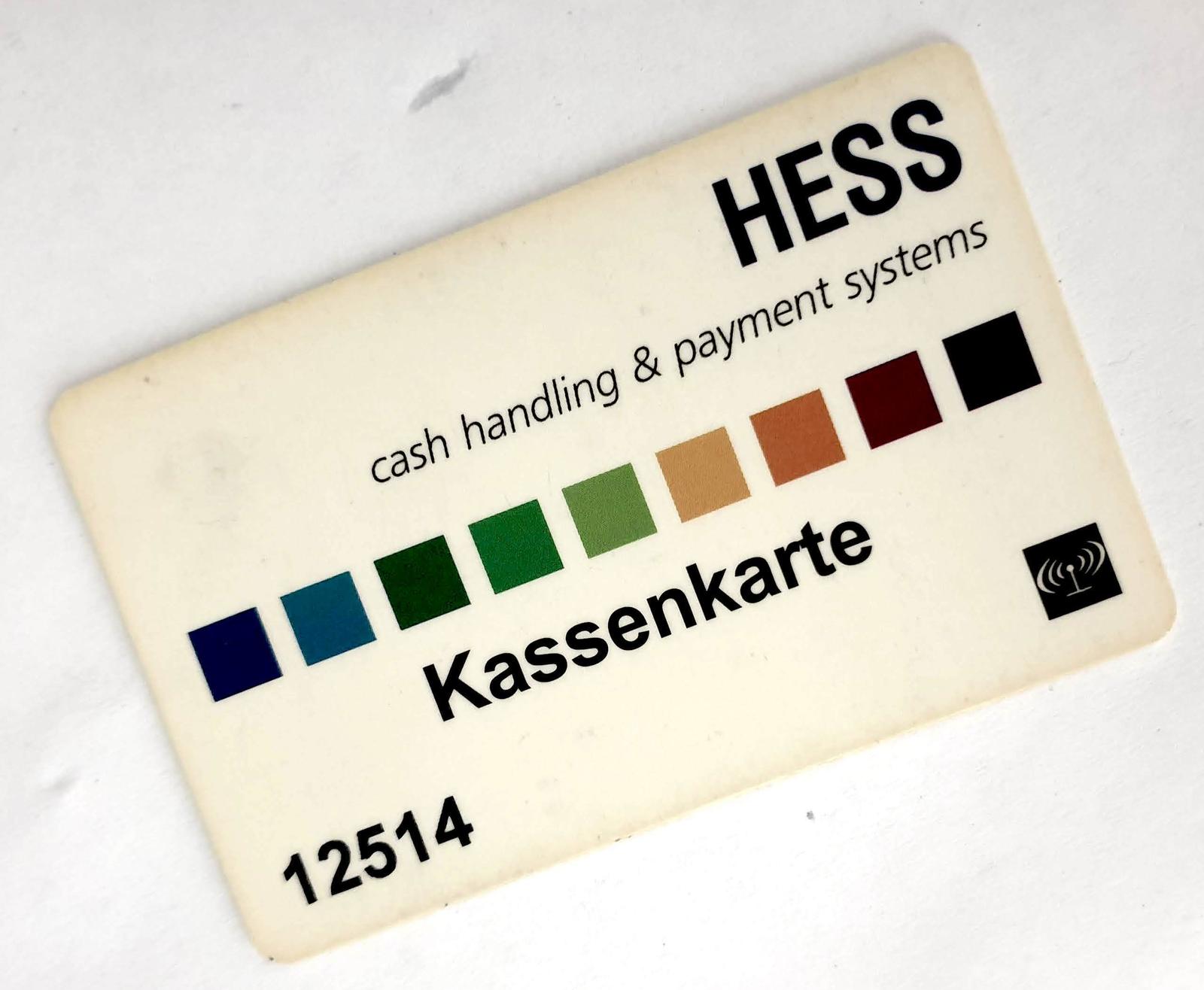 If you need new plates, you must go to one of the kiosks in front of the Kfz-Zulassungsstelle to get it printed. A new plate costs around 15€. Once you have your new plates, you must go back inside. The employee will put stickers on the plate, and give them back to you.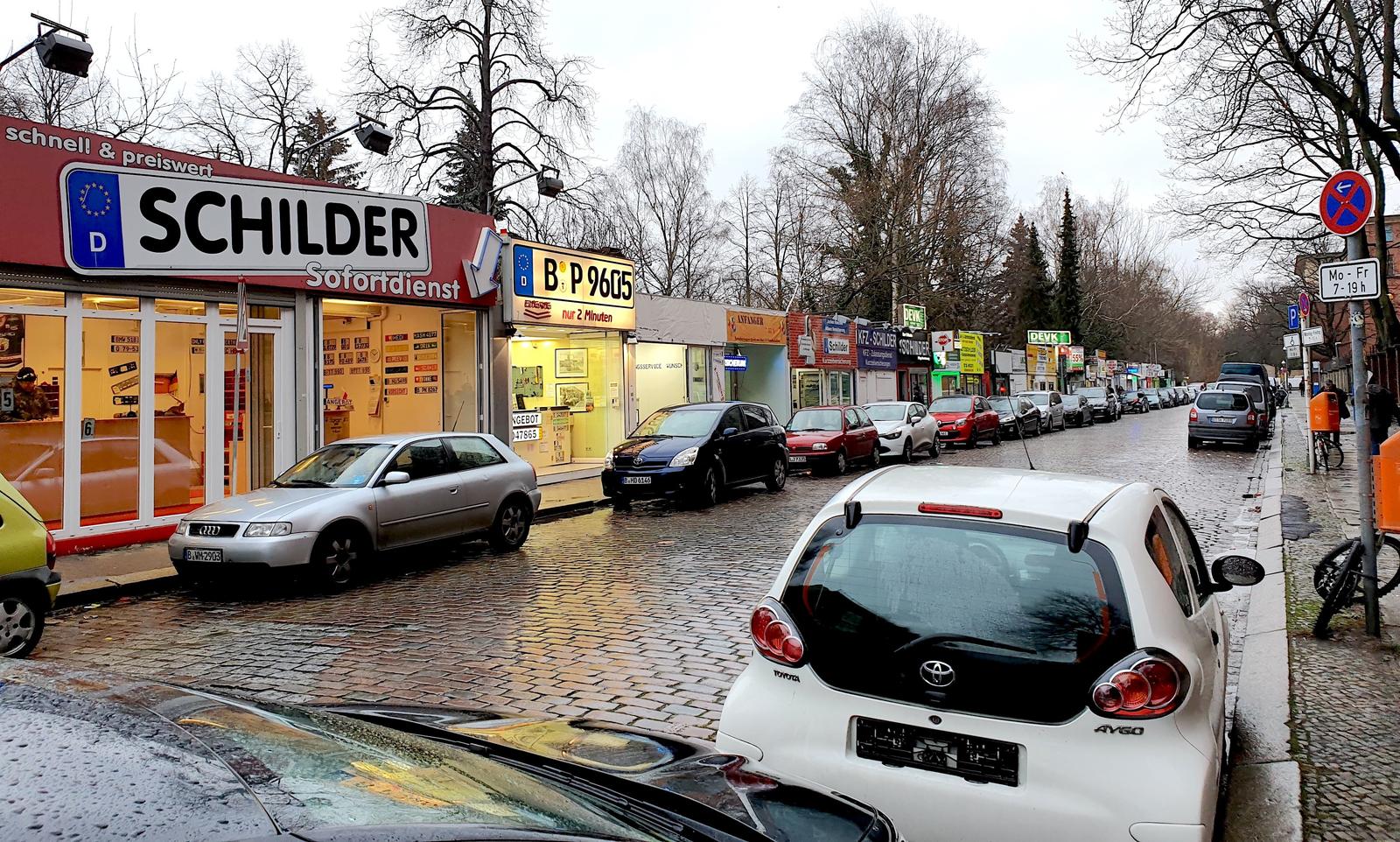 You are now ready to drive your vehicle! Don't forget that you must still pay the vehicle tax (Kraftfahrzeugsteuer). This tax will be taken directly from your bank account. You will receive a confirmation (Kraftfahrzeugsteuerbescheid) by mail.
Step 8: Look for cheaper car insurance
Your car insurance expires every year on December 31. If you do nothing, it's renewed automatically. If you want to cancel your insurance, you must do it before November 301.
Every year in November, look for cheaper car insurance. Use Verivox or Tarifcheck to compare vehicle insurance options. If you find something cheaper, cancel your current contract, and switch to the cheaper insurance. You can save a lot of money by doing this.
If you sell your car, you can end your insurance contract immediately. You do not need to wait until December 31.
Related guide: Car insurance in Germany, Tips to save money in Germany