This guide is for tourists who want to visit Berlin. If you want to move to Berlin, read my moving to Berlin guide.

Visa requirements
You might need a visa to visit Germany. It depends on your citizenship:
Useful link: Visa requirements by country — Federal Foreign Office
How to travel to Berlin
By plane
Use Kayak, Omio, Rome2Rio or Google Flights to find a flight to Berlin. You will arrive at the Berlin Brandenburg airport (BER). It's 30-60 minutes from Berlin by train.
There are 3 ways to get from the BER airport to the city:
Use public transport
You can take a train from BER airport to Berlin, even at night. There are trains every few minutes. Use Google Maps to find directions. The train ride takes 30 to 45 minutes. Buy an ABC ticket at the ticket machines on the train platform. It costs

3.80

€1. Validate your ticket before you get on the train. For more information, read the Berlin public transit guide.
Take a taxi
There are taxis waiting outside the BER airport. A taxi from the airport to the city centre costs around

50

€1, 2. It's a bit faster than public transport, but it's very expensive. Uber and FreeNow also give rides from the airport to the city. German taxis must accept cash and credit cards1.
Rent a car
You can rent a car at the airport. There are kiosks for different car rental companies. You can also use car sharing services like Miles, and drive to Berlin for only

25

€.
By bus
Intercity buses are usually cheaper than planes and trains. They are not very comfortable, but they are cheap. Most buses have free Wi-Fi and power outlets under the seats. The Wi-Fi is not very reliable.
Most buses arrive at BER airport, Zentraler Omnibusbahnhof (ZOB) or Alexanderplatz. BER airport is around 45 minutes from the centre. ZOB is 25 minutes from the centre. Alexanderplatz is in the city centre. If you arrive at BER airport, you need an ABC train ticket to get to Berlin.
Use Rome2Rio or Omio to find a bus to Berlin. If you buy your ticket in advance, it's cheaper.
By train
Intercity trains are a little more expensive than buses, but they are faster and more comfortable. They often have free Wi-Fi and power outlets under the seats. The Wi-Fi is not very reliable.
Most trains stop at the central train station, Berlin Hauptbahnhof. This is in the middle of Berlin.
Use Rome2Rio, Omio, Bahn.de or Google Maps to find a train to Berlin. If you buy your tickets in advance, they will be cheaper.
By car or motorcycle
Driving in Berlin is easy, but free parking is hard to find.
Most parking spaces in the centre cost money1. They cost 1€ to 4€ per hour1, 2. Use Parkopedia to find a free or paid parking space. Most parking spaces outside of the central neighbourhoods are free. Motorcycles can park on the sidewalk for free. It's always easy to park a motorcycle.
You can also park outside the city and take the train to Berlin. There are free Park and Ride (P+R) car parks. You can park your car there for free, and take the train to Berlin. You can find them on this map (in Multi-mobility), or with this list.
The area inside the Ringbahn is an environmental zone. You need a green environmental sticker to drive in this area. You can get a green sticker at most gas stations around Berlin. Motorcycles don't need a green sticker to enter this zone. More information here.
By car sharing
BlaBlaCar lets you ride with drivers who travel to Berlin. You meet them in one place, and drive together to another city. Car sharing is usually cheaper and faster than intercity buses, but it takes more planning.
How to get around in Berlin
How to find your way around Berlin
Google Maps works really well in Berlin. It also works offline. The BVG app and the Jelbi app let you see train schedules and buy train tickets, but it does not work offline. Maps.me and OsmAnd have offline maps and directions.
How to use public transit in Berlin
Berlin has very good public transit. It's the best way to get around, even when you have a car. Just make sure you buy the right ticket and validate it. If you are caught with the wrong ticket, you will get a 60€ fine.
You can buy a 24 hour, 7 day or 1 month ticket. It's cheaper than buying a ticket every time. There's also the WelcomeCard, a ticket that gives you rebates on museums and attractions.
How to rent a bicycle or a scooter
This is the best way to see Berlin. Berlin is very flat and has a lot of bike paths, so it's easy to ride a bicycle or a scooter. You can rent them for around 10€ per day.
When I have visitors, this is my favourite way to show Berlin. I take my visitors along the river Spree and the Landwehrkanal.
Where to rent an electric scooter ➞
How to rent a car
You don't need to rent a car in Berlin. It's easier to use public transit. If you have an International Driving Permit or a EU driver's licence, you can drive in Germany.
What to see and do in Berlin
There are many lists of things to see in Berlin. See visitBerlin.de, WikiVoyage and Lonely Planet.
Main attractions
Berlin Wall (Berliner Mauer)
Some parts of the Berlin wall were preserved. There is preserved part of the wall and a free museum on Bernauer Straße. The East Side Gallery is another part of the wall that was turned into a gallery.
Berlin Cathedral (Berliner Dom)
The most famous church in Berlin. You can visit it, or relax on the grass in front of it. It's on the museum island, close to many old museums.
Berliner Unterwelten
Bunker, tunnel and air raid shelter tours. The tours are in German, English, French, Spanish and more. I have done 3 of their tours. They are very interesting.
Brandenburg Gate (Brandenburger Tor)
The iconic gate on Berlin's East-West axis.
Christmas markets
In November and December, you can visit Berlin's Christmas markets. There are dozens of them. Many are in scenic locations. There are dozens of kiosks that sell hot drinks, food, sweets and artisanal goods. The Christmas markets are open from the middle of November to the end of December.
East Side Gallery
A long mural painted directly on the Berlin wall.
Mauerpark
Every Sunday, this park hosts a big flea market and an open air karaoke. Many musicians also play music there.
Memorial to the Murdered Jews of Europe
Next to the Brandenburg gate is a large holocaust memorial and museum. You can walk through the memorial.
Museum island (Museuminsel)
Museum island is home to the Berliner Dom, and many of the biggest, oldest museums. If you like beautiful old buildings, it's worth a visit.
Oberbaum Bridge (Oberbaumbrücke)
A beautiful bridge that goes across the river Spree. It's right next to the East Side Gallery. You can also go kayaking on the Spree and get a really good view on the bridge.
Palace of tears (Tränenpalast)
A small, free museum about the border control between East and West Germany. It's in the old border crossing point, right next to the Friedrichstraße train station.
Reichstag building (Reichstagsgebäude)
An iconic building. You can visit the cupola and the rooftop, and learn about the history of Berlin. It's free, but you must make an appointment.
Soviet war memorials
There are many memorials to the Red Army, who liberated Berlin in 1945. There are big memorials in Tiergarten, Treptower Park, and in Schönholzer Heide. The biggest one is in Treptower Park.
Tempelhof airfield (Tempelhofer Feld)
This giant former airfield is where many Berliners go to relax, drink beer, skate, kite surf and cycle. It's a great place to visit on a sunny day.
Teufelsberg
Teufelsberg is an artificial hill. There is a cold war listening station at the top. It's now an open air gallery with a really good view of Berlin. If you don't want to pay to visit Teufelsberg, you can visit Drachenberg, the other hill next to it.
TV tower (Fernsehturm)
The TV tower in Alexanderplatz is visible from almost anywhere in Berlin. You can take an elevator to the top of the tower, and get a panoramic view of Berlin.
Victory Column (Siegessäule)
The Victory Column in Tiergarten sits on Berlin's East-West axis. You can go up the tower and see Tiergarten, the Brandenburg Gate and the Reichstag building from above.
Useful link: visitBerlin.de — Official website with really good information
Events
You can find events on visitBerlin.de, Facebook and Resident Advisor. You can find live music on Resident Advisor, Bandsintown, Songkick and Echtzeitmusik.
Walking tours
Guided tours are a great way to discover Berlin. Use GetYourGuide to find walking tours, or look at this list. I highly recommend the Berliner Unterwelten tours.
Outside of Berlin
If you have a bit more time, Potsdam and Wannsee are worth a visit. You can get there by train. Potsdam is in zone C, so you need an ABC ticket.
Clubs in Berlin
Berlin is famous for its techno clubs. It can be hard to get into certain clubs. Clubs don't let everyone in. For example, they often reject tourists, big groups, drunk people, and people under 21 years old1, 2. In Berlin, people don't wear fancy clothes to go clubbing. If you dress too nice, you won't get in1. Most clubs have a cover charge. You must pay 5€ to 15€ to get in. Clubs in Berlin stay open until the morning. The party starts late, and the busiest time is around 2AM.
You can buy presale tickets for club events on Resident Advisor. When you have tickets, it's easier to get in1.
You can find club events on Resident Advisor, or follow clubs on Facebook. WikiTravel also has a short guide to Berlin clubs.
What to eat in Berlin
Typical Berlin street food
Currywurst — Currywurst is street food. It's a pork sausage with a curry and ketchup sauce. It's usually served with fries (mit Pommes) in a cardboard plate. Curry 36 is a good place to try a Currywurst mit Pommes. Konnopke's Imbiss is another famous place.
Döner kebab — The standard street food in Berlin. The best kebab places are a secret, but the worst kebabs are usually in train stations and tourist areas.
Typical Berlin dishes
Cuisine of Berlin - Wikipedia
Fleischerei Domke and Englers Unikat have cheap, traditional working class dishes. For something fancier, try Max und Moritz.
Where to stay in Berlin
There is no "downtown Berlin". There are many popular neighbourhoods, and each one has a different personality. If you stay anywhere in the Ringbahn, you should be okay.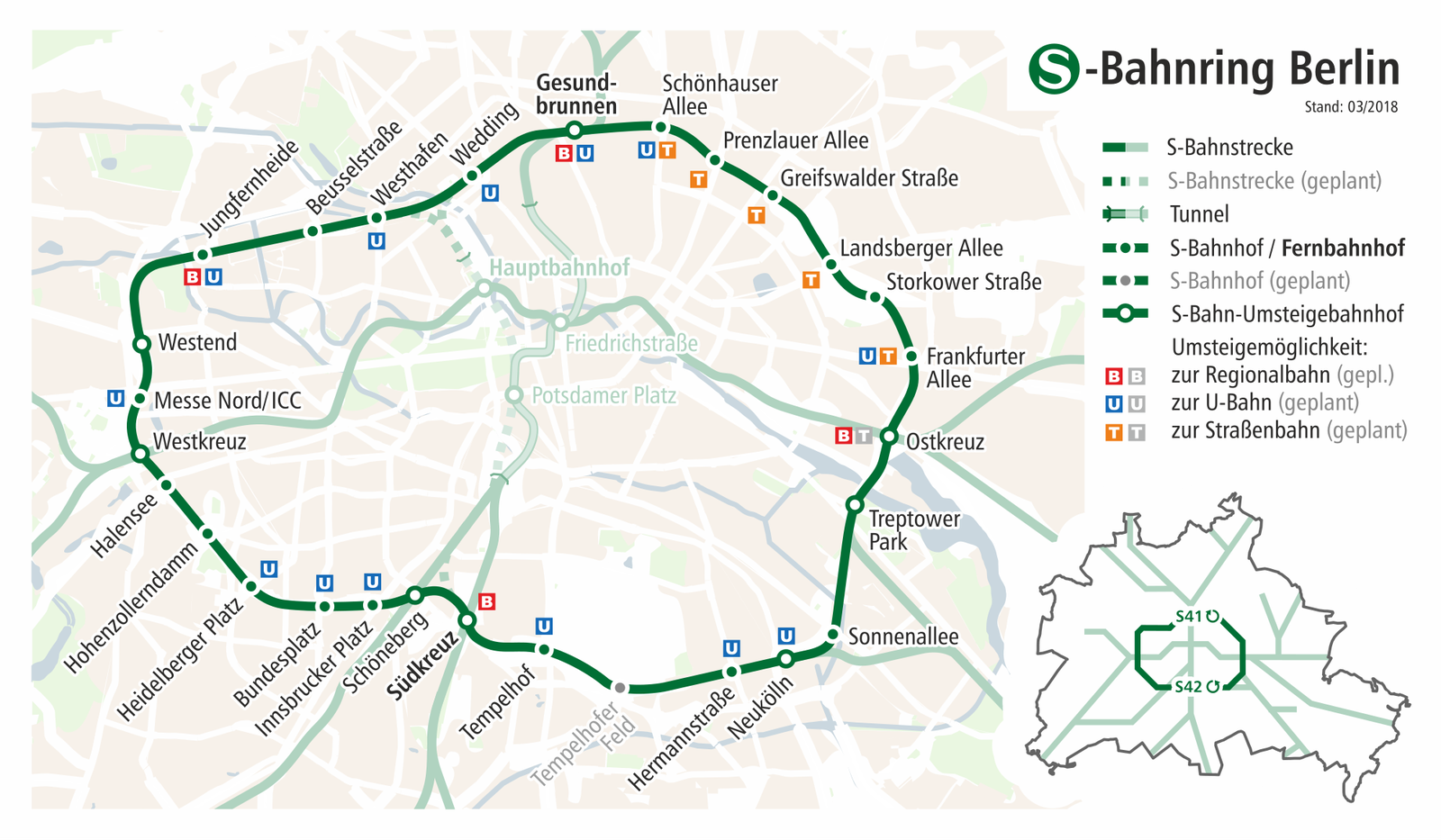 If you are more patient, you can also use CouchSurfing and BeWelcome. People host visitors for free, and spend time with them during their visit. You can meet very interesting people like this.
Shopping in Berlin
In Germany, shops and supermarkets close on Sundays. Most restaurants, tourist attractions, Spätis and gas stations stay open on Sundays.
Always have cash with you. Some restaurants and businesses only accept cash and Girocards. Most street food kiosks and Spätis only accept cash. Cards are rarely accepted for small transactions.

VAT refund

If you live outside the European Union, you can get a refund for the VAT you paid in Germany. For example, if you buy a laptop in Germany and bring it home in the United States, you can get the 19% VAT back. It's not easy to do.
VAT refund process — Federal Foreign Office
Stay connected
If you visit from another EU country, your SIM card will also work in Germany. You make calls, send SMS and use mobile data without any extra costs.
German power outlets
Germany has Type F power outlets. They have a voltage of 230V, and a frequency of 50Hz. Before you visit Germany, check if your devices will work there. You might need a travel adapter to charge your devices.
Free Wi-Fi in Berlin
If you don't have mobile data, you can find free Wi-Fi everywhere:
All U-Bahn stations have free Wi-Fi. Look for the "BVG Free WiFi" network.
Some S-Bahn stations also have free Wi-Fi. Look for the "[email protected]" network.
REWE and Lidl supermarkets have free Wi-Fi1.
Hotels and hostels have free Wi-Fi for their guests.
Prepaid SIM cards for tourists
You can buy a prepaid SIM card at the airport, and at Vodafone, Telekom and O2 stores. Saturn and MediaMarkt also sell and activate SIM cards. You must show your passport and a registration certificate to activate the SIM card1, 2, but store employees will just use your passport and the address of your hotel1, 2, 3.
Information about SIM cards in Germany ➞
Maps
Google Maps works really well in Berlin. If you need offline maps, use OsmAnd or Maps.me. Google Maps also works offline, but you can't get directions.
You should also download the BVG app or the Jelbi app to buy train tickets. It's easier than the ticket machines, and it's in English. The Jelbi app also lets you book cars, scooters, bicycles and taxis.
Be a good tourist
Language
You don't need to speak German. People in the tourism industry often speak English. If you are not sure, ask first. Museum exhibitions are in German and English. Signs in tourist areas are also in English. If you want to live in Berlin, you should learn German. If you are just visiting, English is fine.
Do I need to speak German in Berlin? ➞
Things you should not do
Do not walk on the bike paths
Look down, and make sure you're not blocking a bicycle path. If you walk on the bike path, cyclists will ring their bell, scream at you or even bump into you.
Do not put your glass bottles in the trash
People collect empty bottles and return them for money. Don't make people search for bottles in the trash. Put your empty bottles next to the bin. In some parks, bottle collectors (Flaschensammler) will walk around and ask for your empty bottles.
Do not joke about Nazis and the war
You probably shouldn't joke about this. It's not funny, and it's not original.
Stay safe
Crime
Berlin is a safe city even at night, but crimes still happen. Pickpockets steal phones and bags in trains and restaurants.
Drugs
Cannabis is illegal in Germany. You can still buy it from dealers in parks, but it's a really bad idea. You will get bad weed, and it's often contaminated with chemicals.
Magic mushrooms, cocaine and MDMA are also illegal. If you buy MDMA or ecstasy in Berlin, the KnowDrugs app can help you verify what you buy.
Police
Lost things