In 2016, I switched to N26. I left Commerzbank, because they charge fees for everything. 6€ for using another bank's ATM, 40€ a year for a basic credit card, 7€ a month for an account etc.
N26 is free. No withdrawal fees, no account fees, no credit card fees. Free! I can get money from the sketchiest ATMs in Berlin, and I do not pay any fees.
I've been an N26 customer since 2016. N26 has improved a lot since then, so I had to rewrite this review. This is my experience as an N26 customer in 2021.
This article was not suggested, written or approved by N26. I have done independent research, and these opinions are my own.
What are the benefits of N26?
I switched to N26 to save money. I didn't want to pay fees to use ATMs. There are many other reasons to like this bank. I listed them below, in order of importance.

There are no ATM withdrawal fees
With N26, you get 5 free withdrawals every month1. After that, you pay 2€ per withdrawal1. Most German banks charge 5-7€ to use another bank's ATM. With N26, I haven't paid ATM fees in years. I can use any ATM, even the sketchy ones in Spätis and U-Bahn stations.

There are no monthly fees
The standard N26 account is free. It comes with a free MasterCard debit card, and a free Maestro card. Many banks charge a yearly fee for their credit cards, but N26 doesn't. If you look at their price list, almost everything is free.
The exchange rates are low
The N26 MasterCard is amazing for travelling. There are no transaction fees and no currency conversion fees. You pay the real exchange rate1. You only pay a fee if you withdraw money in other currencies1. You can also get the travel card to pay less fees and get free travel insurance. This summer, I used my N26 card in over 30 countries without any problems.
It's a 100% online bank
You will never need to go to a bank. Everything is done through the app. With Commerzbank, I had to take the train from Pankow to Charlottenburg just to sign some papers at my old branch. If you lose your bank card, you can block it and order a new one in a few minutes. You also get a push notification for every transaction.
No Anmeldung needed to open an account
Some banks require an Anmeldebestätigung to open an account. This means that you need an official address in Germany to open a bank account... but you can't find an apartment without a bank account! N26 doesn't need that. They let you open a bank account even if you don't have a place to live.
Support is available in English
N26 is still the only German bank that operates 100% in English. Most German banks don't even have an English website. If you don't speak German, N26 is one of the best options. The app is available in 5 languages: English, Spanish, French, Italian and German.
It takes 10 minutes to sign up
Opening an N26 account takes 10 minutes. You can open an account from anywhere in the world. All you need is a phone with a camera. You open the app, start a video chat, take pictures of your document and you are done. The signup process doesn't always work perfectly, but when it does, it's super quick. You get your bank card only a few days later.
...but there are other options!
N26 is not the only bank with those features. ING, DKB, Comdirect and bunq don't have ATM fees. Many banks let you open an account without an Anmeldung. Deutsche Bank offers limited English support. N26 is a great bank, but you should still look at the other options.
Related guides: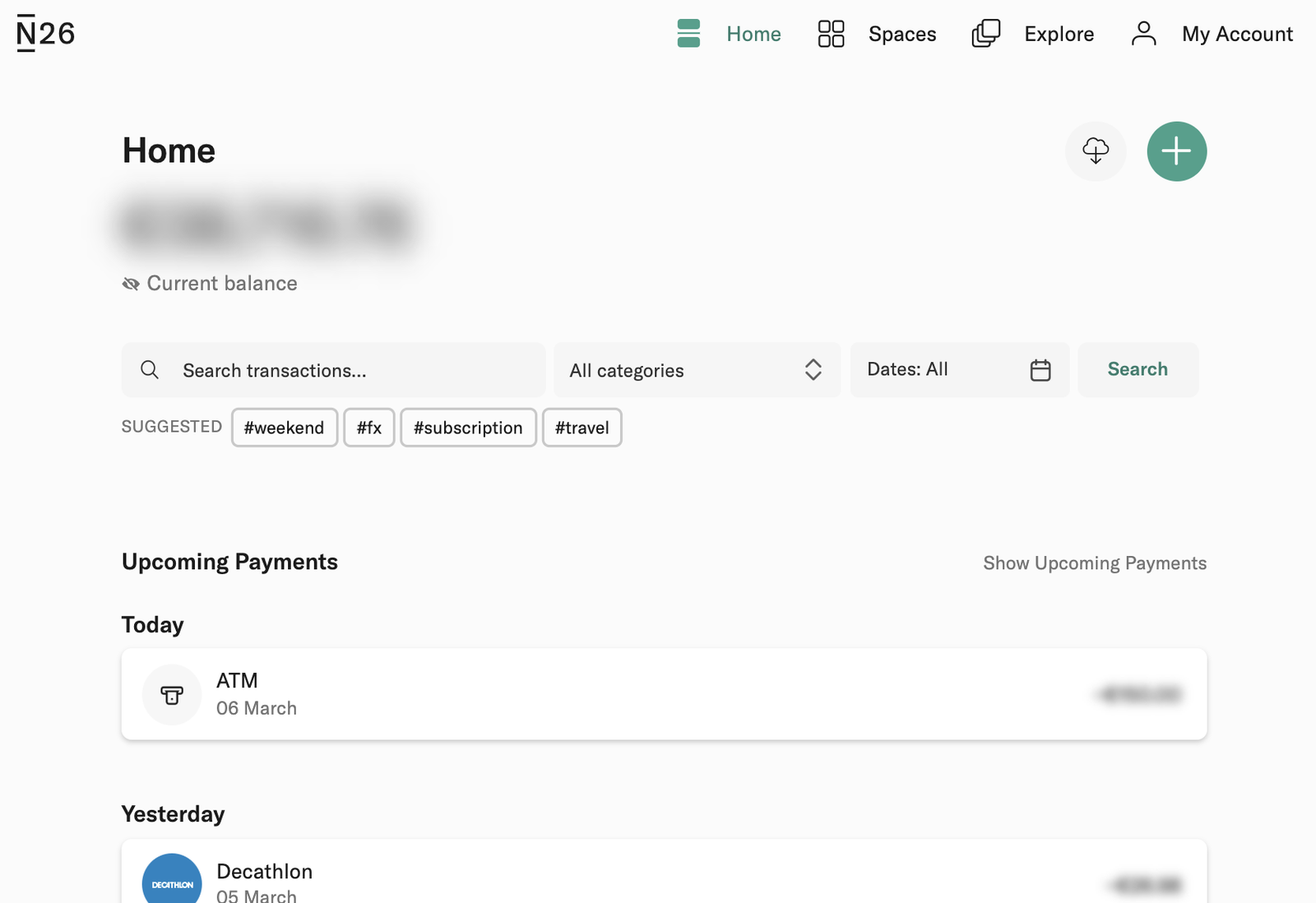 What do I dislike about N26?
There are also some things I dislike about N26. I listed them below, in order of importance.
Bugs in the app
The N26 app works well in general, but it has bugs. Sometimes, the app shows an error message when you sign in, but everything works fine. Sometimes, the app doesn't let you approve a transfer. It doesn't show any error; the "confirm" button just doesn't work. It apparently happens when you have poor cellphone reception, even if you are on Wi-Fi. The app normally works well, but those rare bugs are frustrating.

Some passports are not supported
When you create your account, you must start a video chat and verify your passport. Some passport types are not supported. If video ID doesn't work, you must print a document and bring it to the post office. The person at the post office will verify your identity, and you will get your N26 card a few days later. The post office does not support all passport types either1, 2, 3.
If you can't open an N26 account with your passport, bunq supports more passport types. They offer similar features to N26.
Account creation issues
When everything goes well, you can open an account in 10 minutes. You open the app, start a video chat, show your passport to the customer service agent, and you're done! A few days later, you receive your bank card in the mail.
It doesn't always go well. Many readers had problems when verifying their ID, or had to wait a long time for their new card. Others have to go to the post office to validate their ID. If you need a bank account right now, it's very annoying.
Two-factor authentication issues
If you lose access to your phone, you lose access to your bank account. If you want to use the desktop website, you must confirm the login on your phone. If you want to transfer money from the desktop website, you must confirm the transfer on your phone. If your phone is lost or stolen, you can't pay the rent. Other banks have the same problem, but you can always go to a local branch. N26 doesn't have a local branch.
It's hard to deposit money
N26 offers no easy way to deposit cash in your account. In Germany, you often need to pay with cash, so you will have a lot of coins at home. If you want to get rid of your coins, you must go to the Bundesbank. The Bundesbank has very inconvenient opening hours.
I never need to deposit a lot of cash, but once a year, I want to get rid of my coins.
Limited services
N26 is great for everyday banking, but it offers very limited investing options. If you want to invest your money, get a fancy credit card or get a mortgage, you need a traditional bank like Commerzbank, Deutsche Bank or Berliner Sparkasse.

Slow customer support
The N26 support is not that good. I find the online chat very useful, but the agents take a long time to answer. Many people have complained about the slow support, here and on other websites. It's still nice to have support in English, especially if you don't speak German.

The N26 app
The N26 app has many cool features. They make it easy to budget and save money.
Here are a few things I love about the N26 app:
Push notifications
This is my favourite feature. You get a notification for every transaction in your bank account. When I pay with my N26 card, I get the notification before the receipt starts printing. It helps you keep an eye on your spending and catch unexpected transactions.
Spaces
Spaces are a simple but useful feature. Spaces are buckets in which you can put money. You can transfer money to the "Bills" space, or create a "Vacations" space with a 3000€ savings goal. It's a nice way to create a simple budget.
Transactions and stats
N26 automatically categorises your transactions. You can easily search through them, and see statistics for each month. Unfortunately, the statistics only show your spending. This is not very useful if you have irregular income.
Google Pay and Apple Pay
N26 supports Google Pay, so you can pay by tapping your smartphone. I use N26 with Google Pay all the time.
Fingerprint login
You can use your fingerprint instead of your password. This feature can be deactivated.
Privacy mode
When you press the little eye icon, it hides your account balance and the amount of your transactions.
Here are things I don't like about it:
No phone, no access
When you try to log in on the N26 website, it sends a notification to your phone. You must click the notification before you can login. If your phone runs out of battery, you can't access your bank account. If you lose your phone, you can't transfer money. This is a common problem with online banks.

Incomplete translations
Parts of the app are not completely translated to English. Some labels will still show in German. This is rare, but it happens.
MoneyBeam
MoneyBeam is supposed to let you transfer money to other N26 users easily. In practice, if someone isn't in your contacts, it's faster to just use a bank transfer or PayPal.
Bugs
As I wrote above, the N26 app has a few bugs. Things don't always work like they should and it can be frustrating.
Is N26 safe?
Yes. N26 is a regular bank, with 1500 employees and millions of users1. It's not a startup. Your money is insured up to 100,000€1 by the German government. This is normal for all German banks.

Conclusion
Would I recommend N26? Yes. I use N26 as my only bank account since 2016. I travelled all over the world with my N26 MasterCard. I am happy with them, and that's why I didn't switch to another bank. Many of my friends also use N26, and they are also happy with it.
If you just moved to Germany, N26 is a good bank to start with. You don't need an Anmeldung, and you don't need to speak German. The fees are low, and the N26 app is also pretty cool (I love the push notifications and the spaces). The biggest problem is the slow customer support, and the occasional bugs in the app.

Is N26 the best bank for you? It depends. There are many other options:
Related guide: Comparison of German banks