It's hard to pick the right health insurance in Germany. There are hundreds of options, both public and private. You might have heard of Techniker Krankenkasse already. It's the largest public health insurer in Germany.
I was a TK customer from 2015 to 2021. I had their health insurance as an intern, as an employee and as a freelancer. This is my review of their services.
What is TK?
Techniker Krankenkasse (or TK) is a public health insurance company (Krankenkasse) in Germany. It's the largest health insurer in the country, with 10.4 million members.1 TK is a non-profit company, like all public health insurers in Germany. It's just a little larger than Barmer, the second largest Krankenkasse.
How much does TK health insurance cost?
Your health insurance contributions depend on your income, and your situation. All public health insurers in Germany charge almost the same prices. TK is not the cheapest or the most expensive; it's just average.
How to choose German health insurance ➞
Does TK offer support in English?
Yes, but not officially. You can sign up in English on TK's English website (or use this simple form), but the rest of the website is only in German. The members area (Meine TK) is only in German. All the letters you get are in German. If they need something from you, they ask in German. The TK app is available in English. It has the same features as the TK website.
TK does have English phone and chat support, so you can always get help in English. If English support is important to you, TK and Barmer are your best options. Barmer also has an English phone line,2 but it's a little more expensive.
My personal experience with TK
I was a TK customer since I moved to Berlin in 2015. I was with TK until 2021. I had a very positive experience with them.
Excellent coverage
In my experience, TK covers everything without asking questions. You go to the doctor, you show your health insurance card, and you get the treatments you need. I have seen doctors, physiotherapists, podiatrists, psychotherapists, psychiatrists and dentists. TK paid for everything without asking questions. It just worked.
Glasses are rarely covered. Most of the time, you must buy your own eyeglasses. It's the same with other public health insurers.
At the dentist, TK only covers the least expensive treatment. For example, if you want high quality tooth fillings, you must pay for the cost difference. If you want full anaesthesia instead of local anaesthesia, you must pay the cost difference.3 If you want the best treatment, you must pay for the price difference. Tooth cleanings are not covered.4 It's the same with other public health insurers. This is why many people get extra dental insurance (Zahnzusatzversicherung).
What does public health insurance cover? ➞
Expensive for freelancers
The cost of TK health insurance depends on your income. If you earn more, it's more expensive. This is true for all public health insurers, not just TK.
If you are a freelancer, it's more expensive because your employer does not pay half of your health insurance. If you earn a lot, you can pay up to 925€ per month in health insurance!
On the other hand, the price of private health insurance depends on your age and your health. If you are young, healthy, child-free, freelance and well-paid, private health insurance can be much cheaper.
This is why going with private health insurance sometimes makes more sense. I explain this in my guide on how to choose health insurance. In this situation, TK might not be the best option for you, and you should talk with a health insurance broker.
Good support
You can call TK, use their online chat, or ask them to call you. Their online chat works really well. They reply quickly and give clear answers.
When I received a letter that I did not understand, I used their support chat. They answered all of my questions and told me exactly what to do in less than 10 minutes.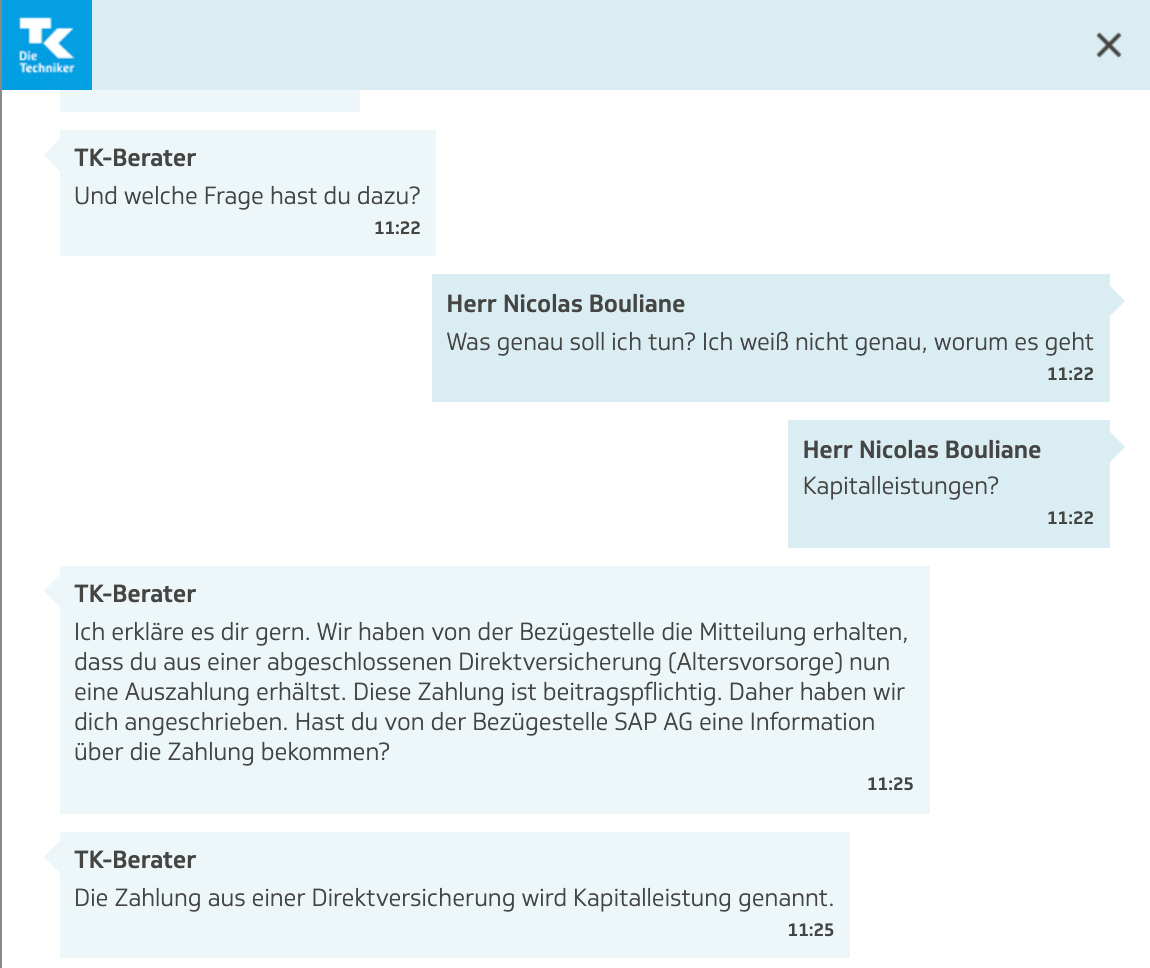 The customer support also available in English.
Meine TK
Most things can be done online in TK's members' area, Meine TK. You can update your personal information and read your messages online.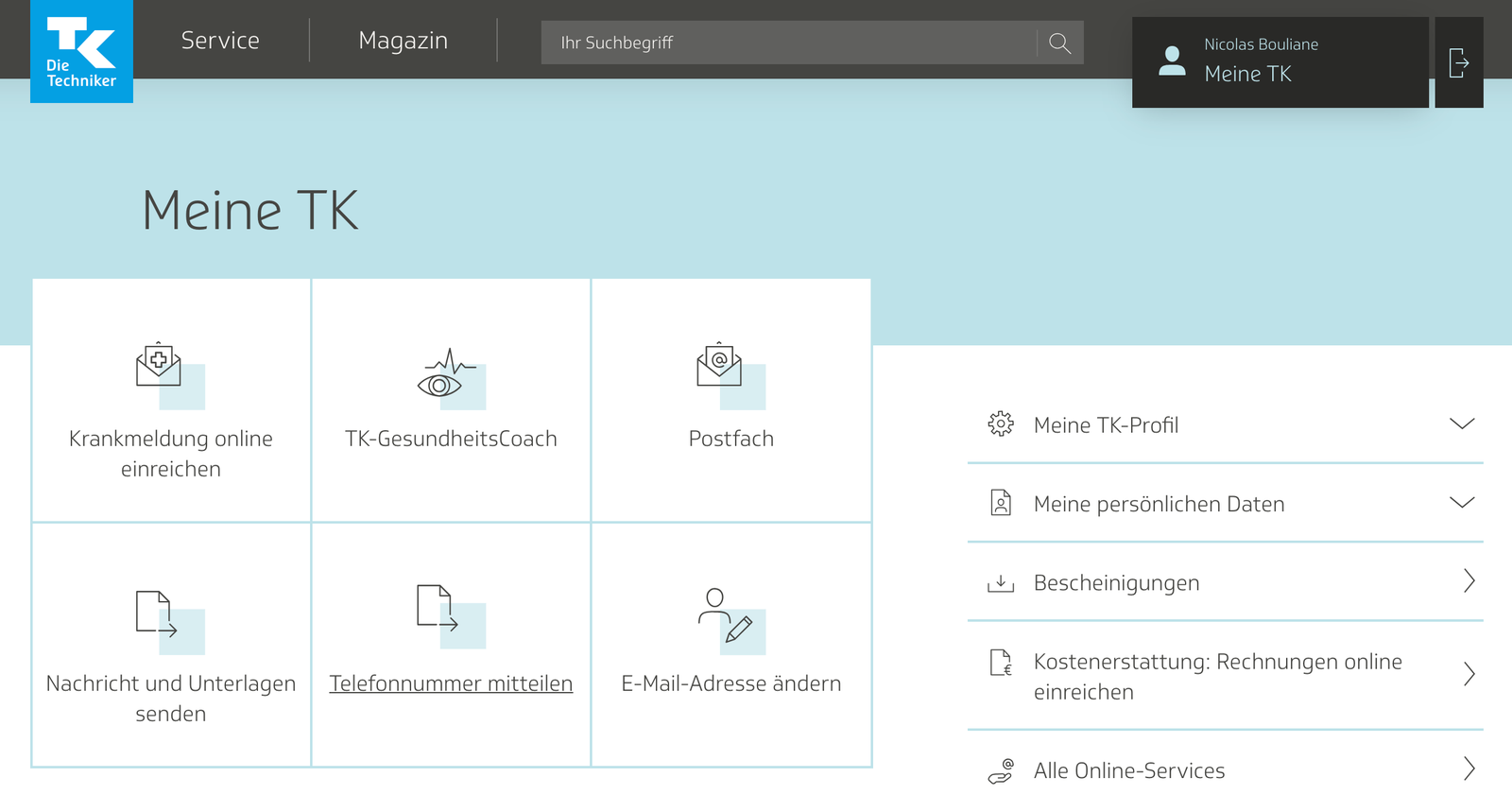 You can choose to receive all your mail online. When there is a new message, you receive an email. You can only view the message on the TK website. You must enter an SMS code to access your messages. The TK mailbox is just a list of PDF letters from TK.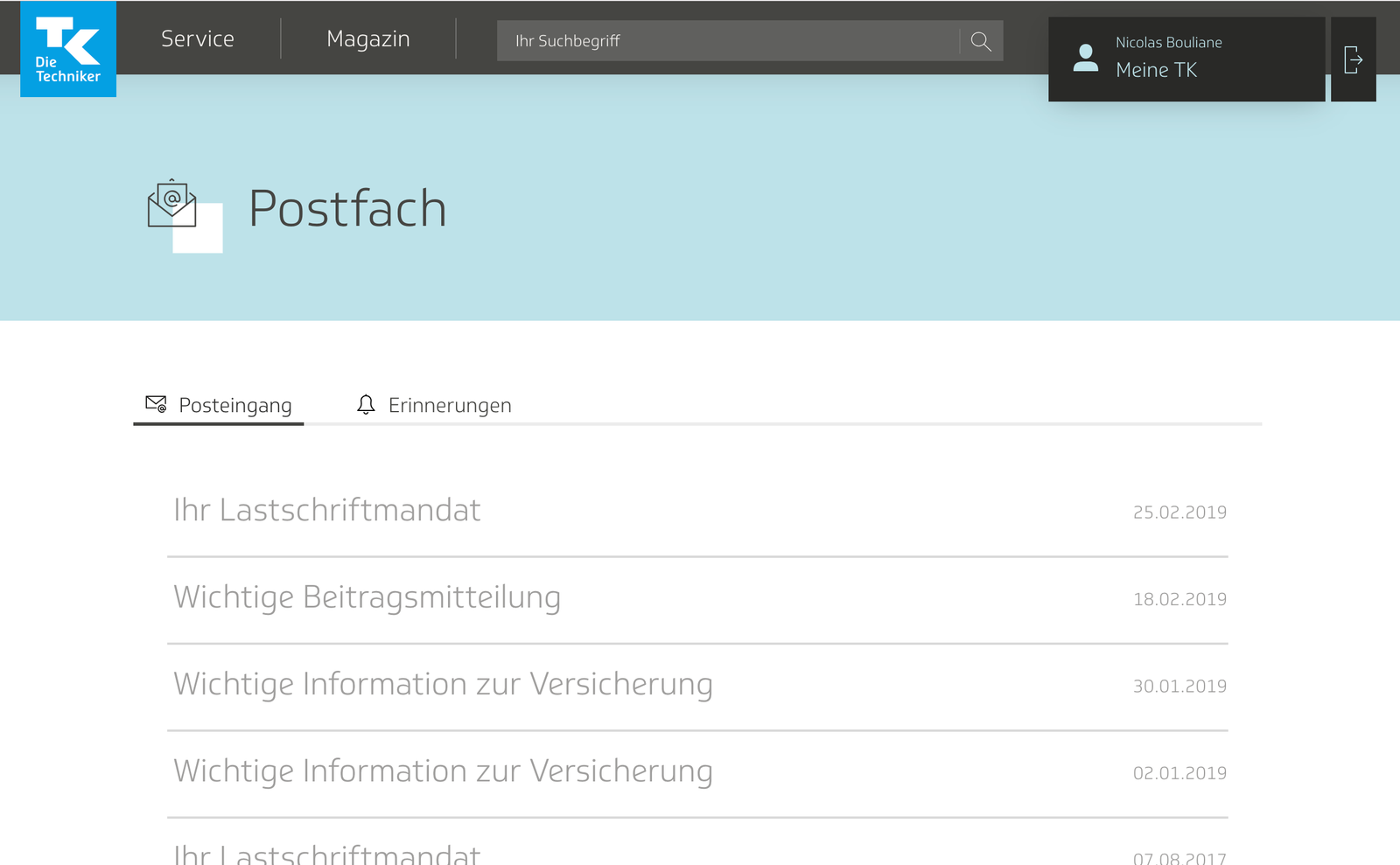 You can also download important documents from Meine TK.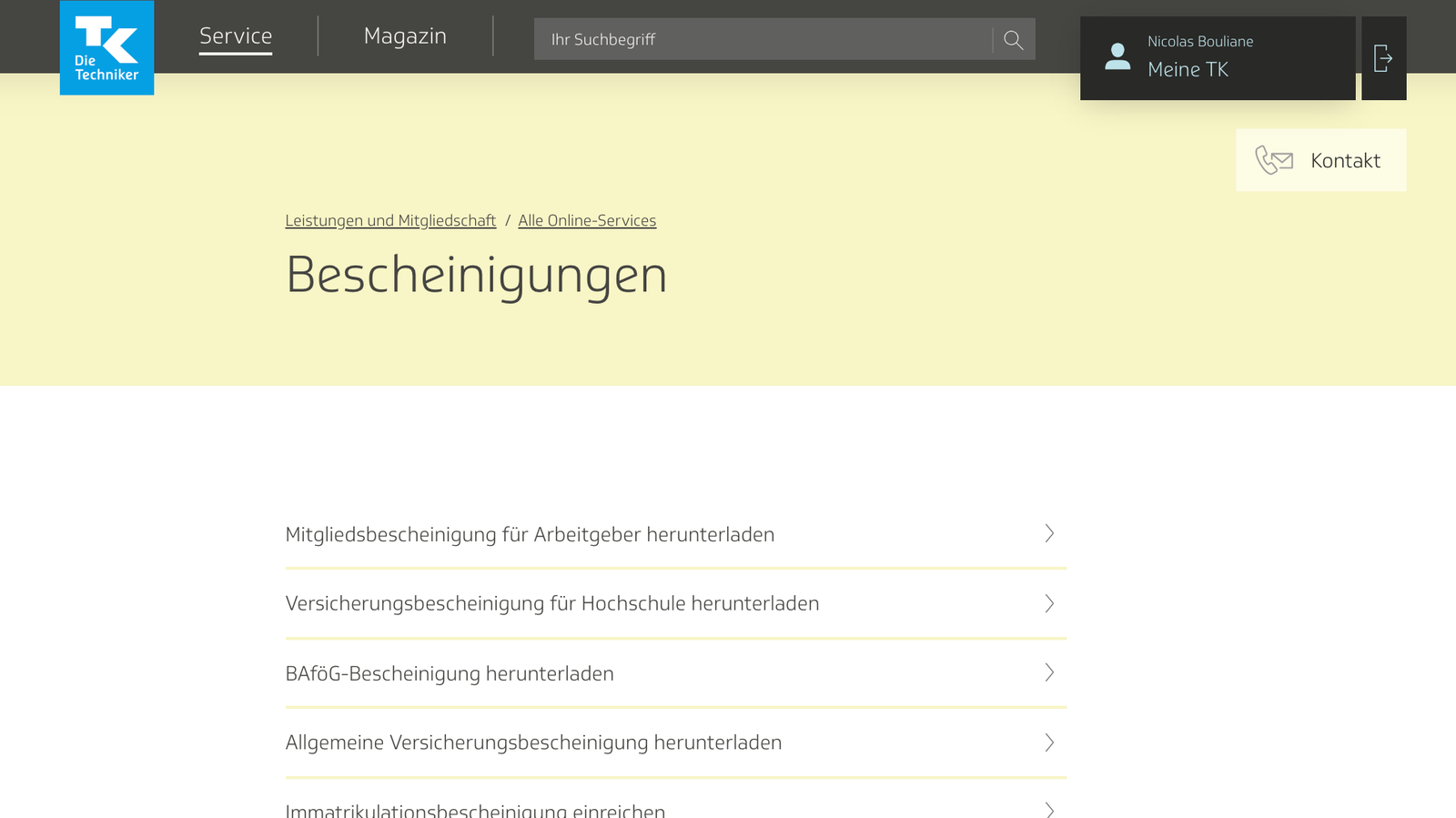 You can also ask Techniker Krankenkasse to find an appointment for you. They send you an SMS when they have found an appointment for you. This can be very useful if you don't speak German fluently, and don't have a doctor yet. I only discovered this while writing this review, so I have not tried it.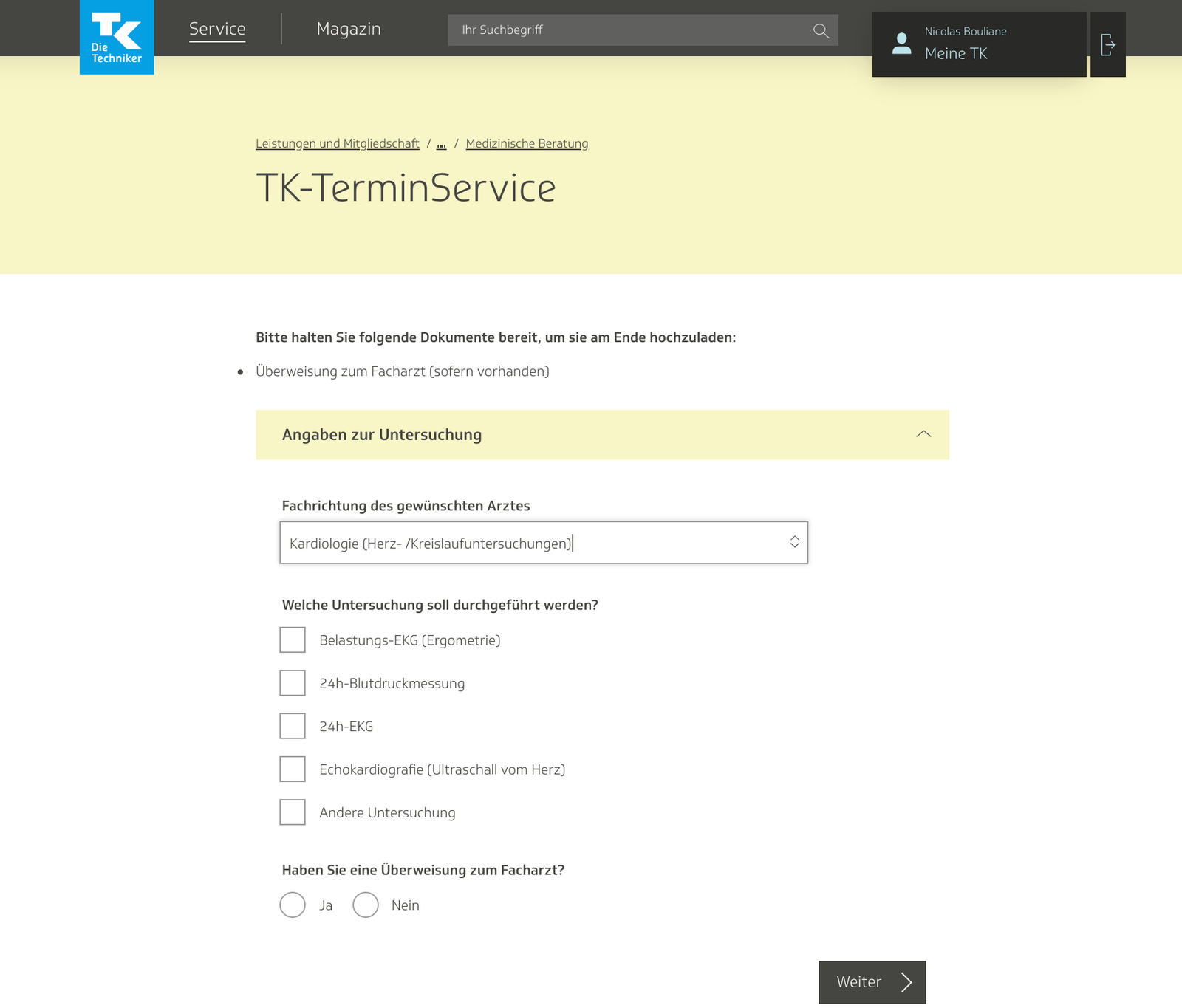 Meine TK allows you to submit or download documents online. You rarely need to send something by post. You can also download documents for your employer, the Ausländerbehörde and BAföG straight from TK's website.
What others say about TK
Techniker Krankenkasse is very good. It's the best-rated public health insurer in every comparison:
I am not cherry-picking facts. Every article I have found ranks TK first. In 2019, my insurance broker also said that it's by far the best public option.
In 2021, TK raised their prices. It's still a good deal, but it means you should also look at other options. A health insurance broker can help you pick health insurance. Their advice is free.
Conclusion
Techniker Krankenkasse is an excellent public health insurance company. I was a customer for 6 years, and I was very happy.
Positives:
It just works. They pay for everything without asking questions.
They have very good customer service.
Most services are available online on their website and in their app.
Rated best public health insurer in many comparisons.
They can help you find a doctor appointment.
Negatives:
English support is available, but not guaranteed. Big parts of the website are only in German. If you need English support, Barmer is also an option.
Since 2021, their prices are a bit less competitive.
Private health insurance is a better choice in some situations.
In 2021, I switched to private health insurance. I was still very happy with TK, but it was not the best option for my new situation. When you are self-employed, private health insurance sometimes makes more sense.
Questions and answers
Is TK accepted for a visa application?
Yes. When you apply for a residence permit, German public health insurance like TK is always accepted. It works when you apply for a freelance visa, a work visa, a Blue Card or a student visa.
Related guide: Which health insurance do I need for my visa application?
Will TK cover me?
Generally, yes. TK is usually forced to cover you. There are two big exceptions: freelancers who just moved to Germany, and students over 30 years old who just moved to Germany. In this case, public health insurers can refuse to cover you, and it can be hard to find health insurance. Talk to a health insurance broker, and they will help you for free.
Related guide: What options do I have? (How to choose health insurance)
How to sign up with TK
If you want be insured with the Techniker Krankenkasse, fill this simplified form. It takes 10 minutes, and Feather takes care of the rest. Feather is an English-speaking health insurance broker in Berlin. I work with them since a long time and I trust them.
Sign up with Techniker Krankenkasse
You can also go through the process yourself on the TK website. They have an English sign-up form.
If you don't know which health insurer to choose, get help from a health insurance broker. They will help you pick the best health insurance for your needs. Brokers get paid by health insurance companies to bring them new customers. Their help is free.
If you choose TK, you can pay 10€ per year to get Envivas travel insurance. It covers your medical expenses while you travel. It works well: they paid for my friend's helicopter evacuation, ambulance trip and hospital recovery in Nepal.
Sources and footnotes