This guide shows you how to write a German address and send letters to Germany.
Where to put the address on the envelope
It's the same as in most countries:
The address of the person you write to goes in the middle.
Your address goes in the top left. It's optional. If the letter can't be delivered, they send it back to this address.
The postage stamp goes in the top right.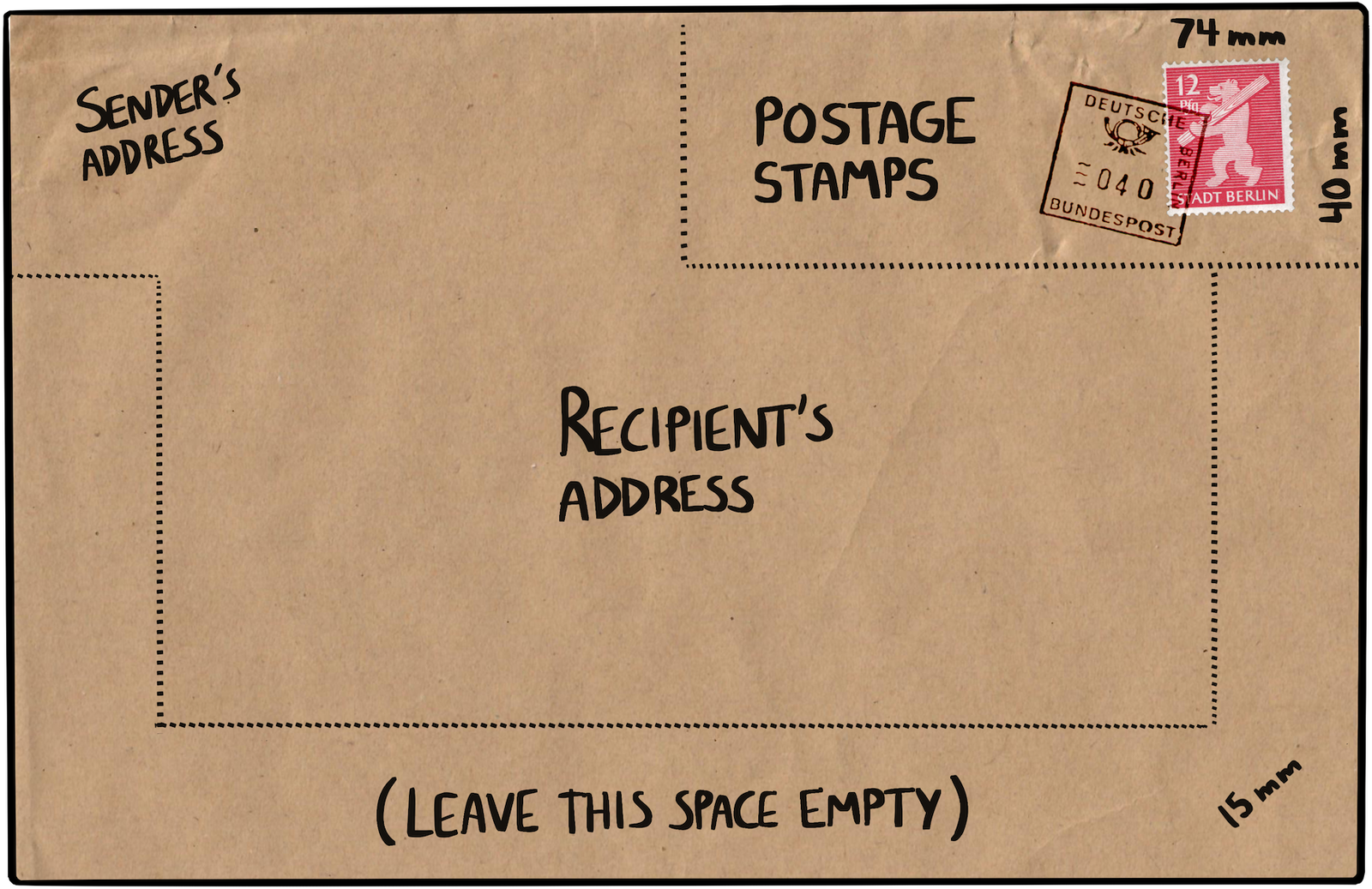 How to write German addresses
The parts of a German address
German addresses are written in this order:
Person or business name
German addresses start with the recipient's name. This name must be on the person's mailbox, or your letter won't be delivered.7

Intermediary
If the recipient's name is not on their mailbox, add "bei", "c/o" or "z.H." to the address. This is also how you send a letter to a person's office.
Privacy details
Add Persönlich (personal) or Vertraulich (confidential) if no one else should read this letter.5 It means that other people at this address should not open your letter.

Street name and house number
Put the street name before the door number. For example, "Musterstraße 17". A building can have multiple entrances like "17A" and "17B".
Extra information (Addresszusatz)
See below.
Postal code (Postleitzahl)
Germany uses 5-digit postal codes. Always include it in the address, because big cities can have two streets with the same name. The postal code finder can help.
City name (Ort)
For example, "Berlin".
Country (Land)
For example, "Germany" or "Deutschland". If you are in the same country, you don't need to include the country.
Extra information
Sometimes, an address is not enough. You must add extra information in the Addresszusatz field. It helps delivery people find your apartment. The Bürgeramt might ask for this when you register your address.
Entrance
Some buildings have multiple entrances. It can be hard to find your apartment.

Haus B (building B)
Treppenhaus 3 (staircase 3)
Vorderhaus (entrance in the front)
Hinterhaus (entrance in the courtyard)
Seitenflügel (entrance on the side)
Remise (small building in the back)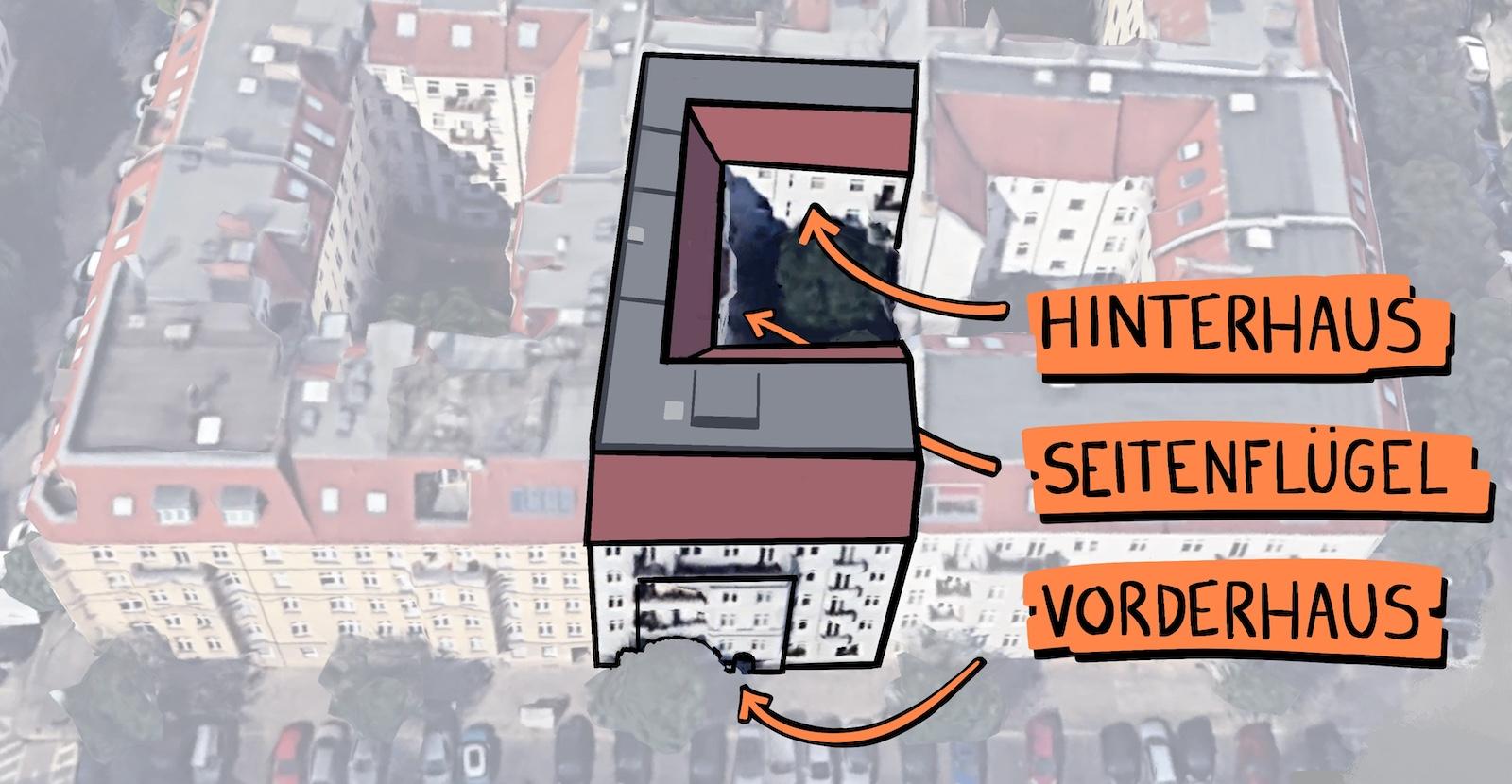 Floor number3

Attic apartment: Dachgeschoss or DG
2nd floor: 2. Etage, 2. Stock or 2. OG
1st floor (after the ground floor): 1. Etage, 1. Stock or 1. OG
Ground floor: Erdgeschoss or EG
Basement: 1. Untergeschoss, 1. UG or just UG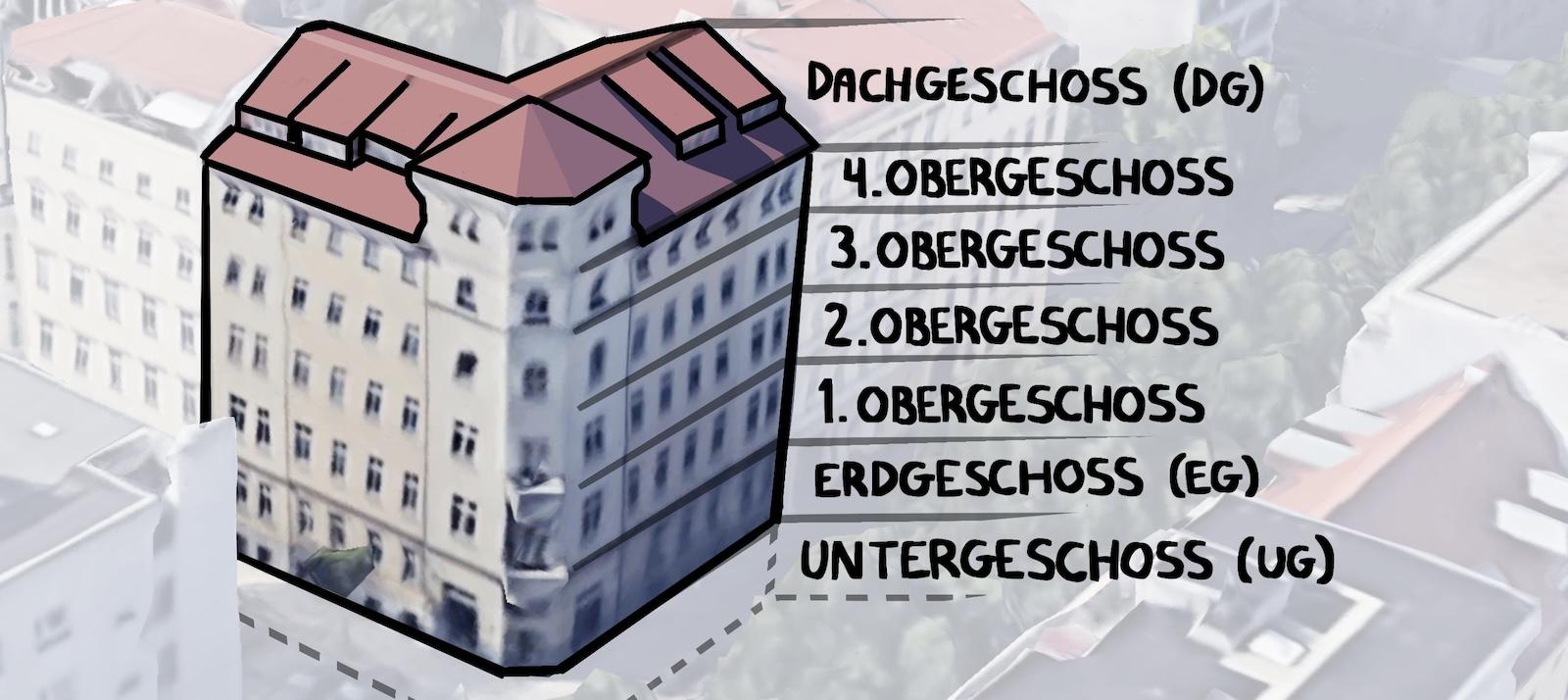 Apartment number
German apartment buildings rarely have apartment numbers. Apartment numbers are written as #123, Whg. 123 or "W123".4
Side of floor
If there is no apartment number, include the side of the floor. For example, "4. Etage links" (4th floor on the left).
Simple example
If you want to write to your friend Max Mustermann, this is how you would write his address on the envelope: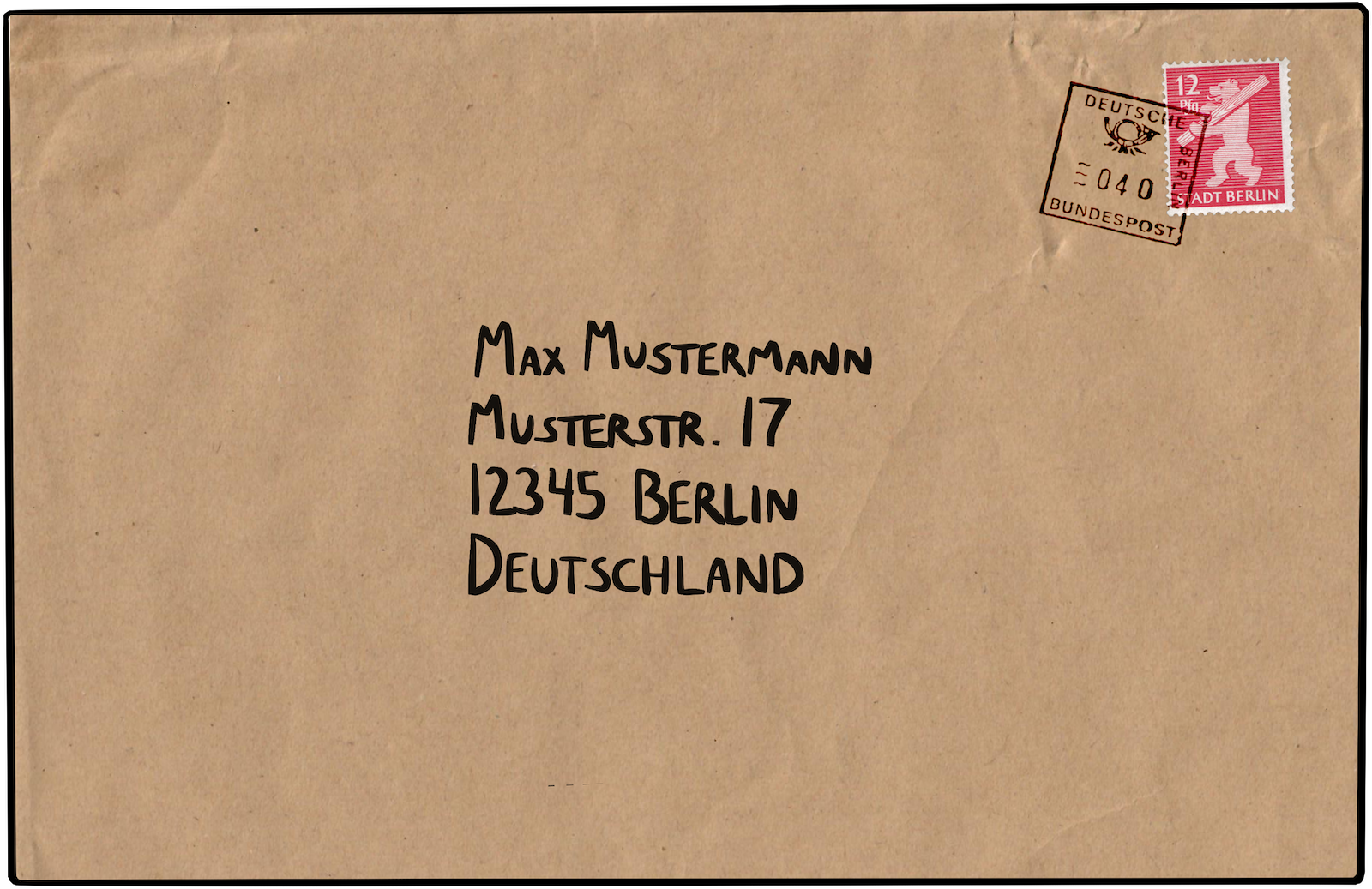 Name of the person you are writing to
Street and door number
Postal code and city
Country
If the name is not on the mailbox
German apartments rarely have apartment numbers. Everyone in the building has the same address. Each person has a mailbox with their name on it.
If your name is not on your mailbox, you will not receive your mail.
If there is no mailbox with the person's name on it, your letter will not be delivered. You must add "bei [name on mailbox]" or "c/o [name on mailbox]" to the address:2
The person you are writing to
bei The name on the mailbox
Street and door number
Postal code and city
Country
For example, to send a letter to Max at his girlfriend Monika's address, write the address like this:1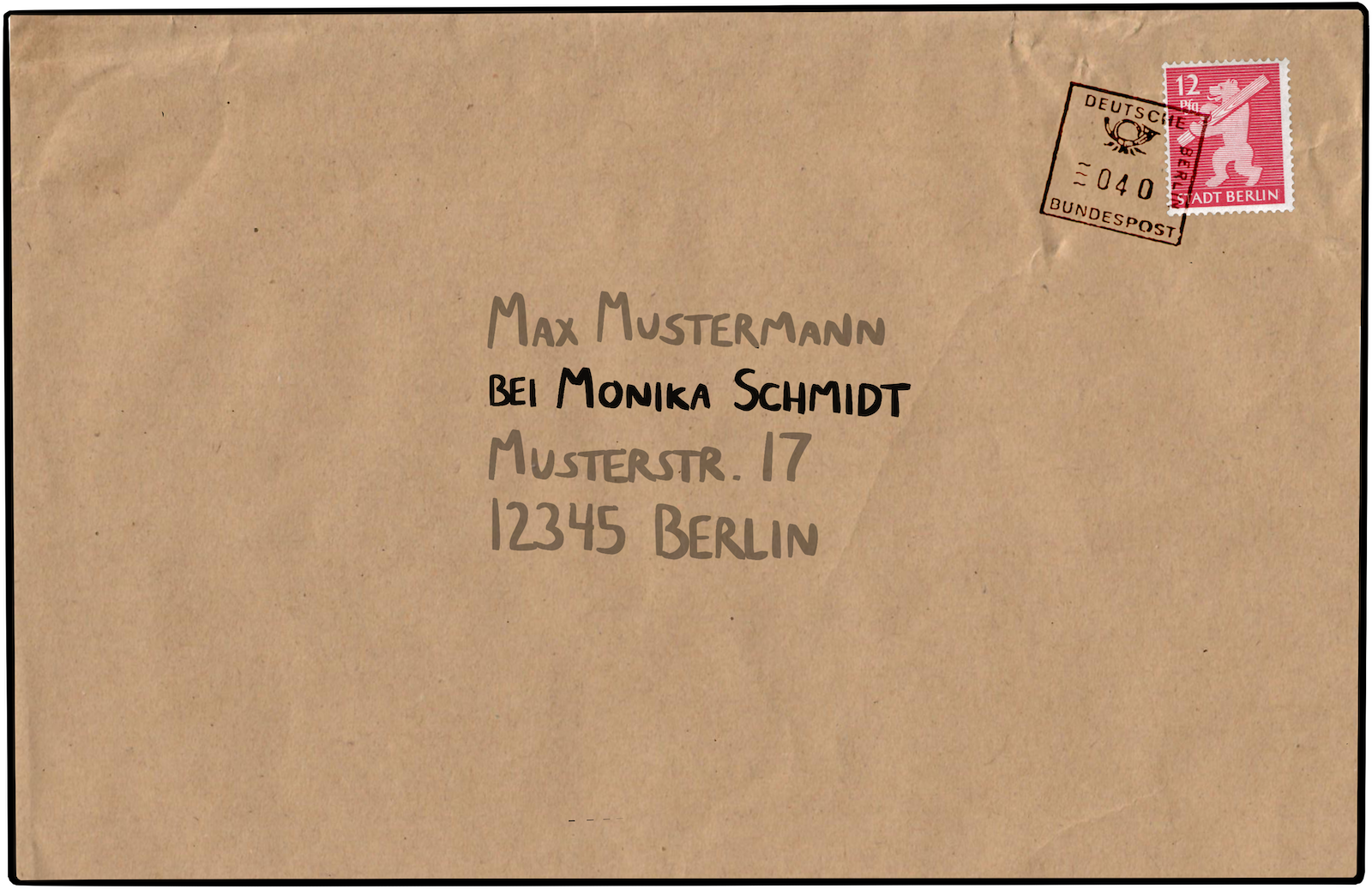 When you address an employee at a company, you can also use "z. Hd."6 For example, to send a letter to Max's office, write the address like this:
The person you are writing to
bei The name of the business
Street and door number
Postal code and city
Country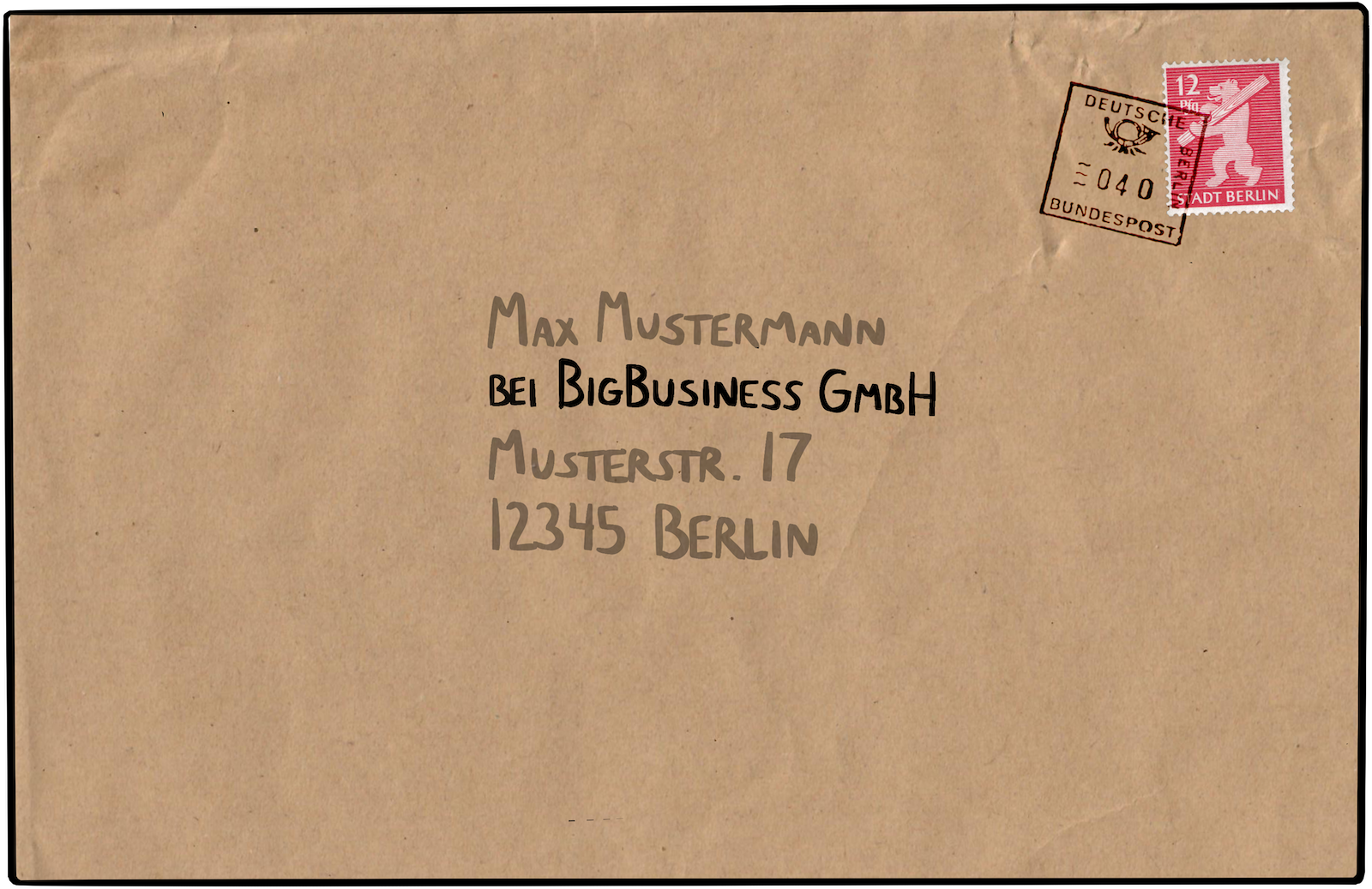 You can also use "zu Handen" (z. Hd.):
The name of the business
z. Hd. The person you are writing to
Street and door number
Postal code and city
Country
If no one else should read this letter, add Persönlich (personal) or Vertraulich (confidential).5
The name of the business
z. Hd. The person you are writing to
- Vertraulich - Street and door number
Postal code and city
Country
How to mail a letter in Germany
How to mail a letter — from your computer, without a printer
Sources and footnotes